It's summertime and the market blows.  We've been pretty negative and bearish of late on the short-term outlook and people are getting tired of it.  I've gotten four emails from readers asking me to tone it down a bit.
Sorry!
For my penance, I'll present you with the bull case from two sources.
The first is Charles Schwab's chief strategist Liz Ann Sonders.  Here are some of the positives she sees as per her latest missive about whether or not we should Sell in May:
Muscle memory has many investors fretting a repeat of 2011 and 2010, when economic weakness in the spring led to brutal corrections each year, to the tune of -19% and -16%, respectively. But there's a long list of positive offsets this year relative to the past two years:

Inflation is coming down, especially among commodity prices.
Credit growth is quite strong, especially for consumers.
Housing has improved markedly.
The US manufacturing sector is humming.
NFIB's small business survey made recent upside breakout.
Job growth is much better.
Consumer confidence is improving.
Private-sector leverage ratios are much improved (debt servicing costs are extremely low).
Recovery in state/local government spending.
The US economy somewhat decoupling from rest of world; at least Europe.
US bank capital/health is much better than Europe's.
The European Central Bank's Long-Term Refinancing Operations have reduced likelihood of global financial contagion.
Germany appears more willing to accept higher inflation, opening the door to easier monetary policy for the eurozone.
Valuations are quite cheap, especially on forward earnings.
Investor sentiment has improved sharply with the correction to-date (meaning pessimism has kicked back in).
Sonders also notes that Sell In May doesn't work well in election years and that even though the May-November period is much weaker for stocks overall, some of the year's strongest months occur within it.
Next, I'll point you toward my boys from Bespoke Investment Group and their look at how hated stocks have become among Wall Street strategists (hat tip John Melloy):
Bloomberg asks equity strategists at the major Wall Street firms each week what their recommended weighting is for stocks, bonds and cash. As shown below, the consensus recommended stock weighting has cratered this year and is now at 52%, which is just barely above the low weighting reached in March 2009.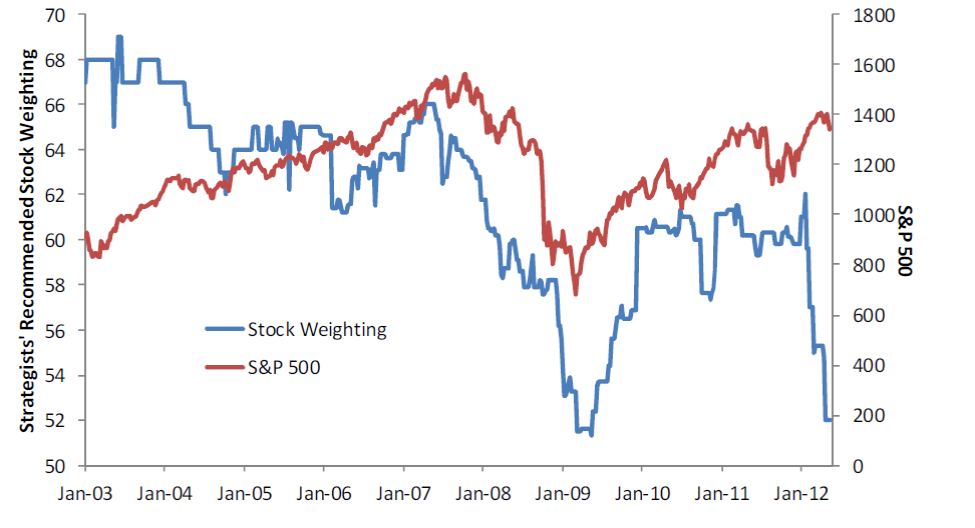 So you see, it's not all bad, now is it?
Hope this bit of positivity serves as a counterbalance to my Summer of Suck post.
Sources:
Month of May: Sell and Go Away, or Hang in There? (Charles Schwab)