We're headed into another summer on Wall Street and, like opening up a giant box of German pornography, you just know we're in for a shitshow.
Right about now is the time where the fabled Second Half Recovery™ shows signs that it's not going to take place.  Right about now is the time when Wall Street strategists and economists begin ratcheting down GDP estimates and tempering their optimistic year-beginning calls with a dash of bitters and a dollop of doubt.
Just like last summer.  Just like the summer before.
On the side of the bulls is the fact that stocks are not particularly expensive and they are completely unloved when viewed through the prism of fund flows.  Also, sentiment is muted, gas prices are coming down and the twin terrors of Jobs and Housing are not the Achilles heels they once were.
But on the side of the bears is literally everything else:
Economic data stateside is slowing, not growing.   Car sales are responsible for half of the economy's growth right now, a long-delayed upgrade cycle as the aging vehicles on the roads in this country are finally put out to pasture.  Home improvement and rental building are a big chunk of the rest of the growth we're seeing, this is also a long-delayed development that is not incremental, it is merely work that's been put on hold for too long and it's making things look better than they really are.  Outside of cars and fixer-uppers, it is tough to find a way that this economy grows anywhere near what would be needed for "escape velocity" – 4%, 5% just not happening.
Earnings in Q1 were not so hot and guidance was lame.  Analysts are looking for an earnings growth drop-off in both Q2 and Q3 with a big uptick in Q4 for them to make their annual estimates.  Yes, the fabled Second Half Recovery™, where have we heard that before?
Europe is imploding again and the bandaids of 2011 are being slowly peeled back.  Bond yields are rising everywhere but in Germany, Spain is nationalizing their banks while Italy screams.  Greece has a foot out the door thanks to the new political realities of election season.  It's gotten worse since last fall's LTRO, not better.  There is no growth, even if the anti-austerians win and governments begin doling out euros again.
On top of this, while the Fed remains easy, we simply do not know yet whether or not QE3 aka Operation Twist gets extended past its June 30th sunset.
Politically, we know that wrangling over the Fiscal Cliff and the debt ceiling is going to be the focal point of this this summer's electioneering.  Faced with the expectation that some taxes are guaranteed to go up and some level of partisan bullshit will accompany the debt ceiling hike, we can only ask ourselves how much of this headline uncertainty has already been priced in.
And don't you throw the Facebook IPO in my face – it is not "bullish for the economy" or the market, what's good for facebook is good for Facebook, they are set to become yet another in a long line of productivity-killing, offshoring tech giants – this is not Ford Motor coming public in the 1950's to help build out our nation's infrastructure and workforce.  The co-founder, Eduardo Saverin, has already renounced his US citizenship in a bid to reduce his Federal taxes ahead of the deal.  When that's the mentality – billionaires who've benefited from the US seeking to give back as little as possible – you can see how useful this deal will be to everyone else.  Not useful at all.
Lastly, seasonality is not on our side.  And yes, I'm familiar with the argument that Sell in May doesn't work in election years – but tell that to the investing public, who continue to pull funds from stocks and stock mutual funds this year as though they're radioactive.  Mom and Pop would sooner line a birdcage with the Traders' Almanac than heed it now that Apple is not making new highs every hour of the day – they are done with this game.
In the meantime, a glance at the charts of economically-sensitive stocks and indexes tells you all you need to know about the near-term outlook for risk and expectations of cyclical growth.  I've selected three for you to consider:
Here's Caterpillar ($CAT), as good of an indicator for the global growth outlook as ever there was one.  They play in every geographic sandbox and have a host of different verticals they sell into.  This is a high quality company and they've been executing, but the stock is frequently used as a trading vehicle to express strong or weak supply-demand dynamics and the price action here tells quite a story, a complete round trip down from January's optimism: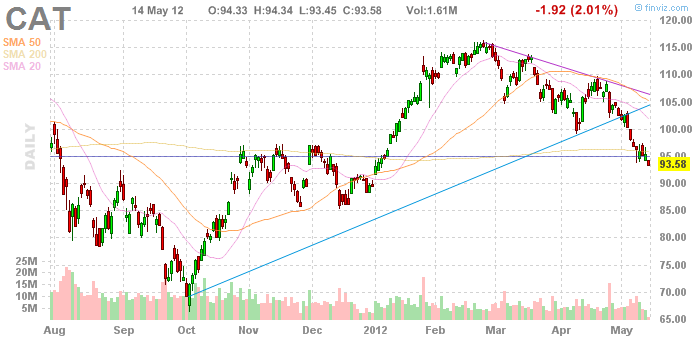 Up next, the Russell 2000, manifested by the IWM index ETF.  Small caps are your best canaries in the coal mine for risk appetite and the US picture, the stocks making up the RUT have much less overseas exposure than their larger cap brethren.  The decisive break below 78 (major support), which could be happening now, will speak volumes: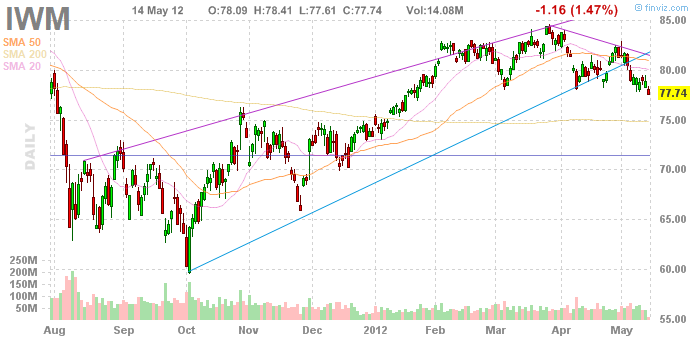 And finally, Dr Copper, who has picked up and moved his practice to China in recent years, is both rolling over and violating the trendline.  Again.  Combined with the word from Asia – where they are "drowning in copper," this chart is the definitive showstopper: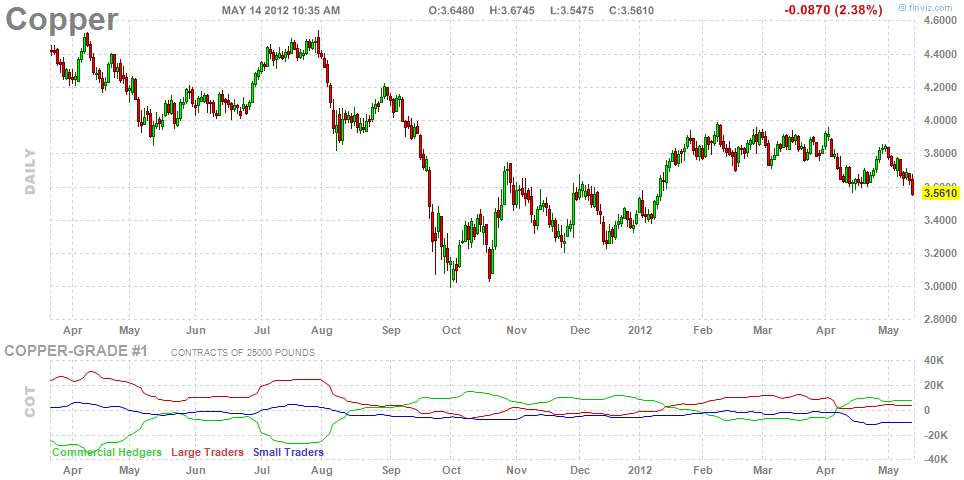 Now these are just charts, reflecting what has happened and what is happening – not what will happen.  But the fact that we are slowly eating away at the gains of Q1 so early in the summer tells me everything I need to know about what we have in store.
I know what you did this summer; the same thing you did last summer and the summer before.  You looked for a non Fed-manipulated recovery – and you didn't find it.