Greetings from a southbound Amtrak Acela train, where the "free Wi-Fi" is a joke and the dining car's offerings would be rejected if air-dropped into a Darfur refugee camp.
The Dow is down for the 6th day in a row.  Today it's Spain, yesterday it was Greece, tomorrow it will be French Indo-Prussia or some such shit.  Having gone almost completely risk-off as of May 1 across the portfolios we manage, I find myself watching the action here in a somewhat detached way, the selling of US stocks is way more aggressive than I would have thought necessary.
The question is, are we pricing in European financial system contagion or just the Euro recession that is already underway?  US exports to Europe are roughly $220 billion a year, nothing crazy – we're talking about only 1.5% of GDP.  Let's say Europe really does pull a Thelma & Louise and goes right over the cliff, we see a drop-off of 20% or so in exports to the continent.  In this scenario, we're talking about less than half a percentage point shaved off of our GDP.
The impact of a completely decimated European economy will be greater on our stock market than on our economy.  Consider that the S&P derives between 10% and 20% of its revenue from Europe (much higher for the tech sector).  And then there's the whole thing with the USD/EUR seesaw and its impact on stocks/commodities etc.  I know, remember how annoying that was last fall?
As I write, the banks in Europe are being absolutely Travolta'd, led by those of the Spanish variety.  Here's the index:
Bloomberg Europe 500 Banks And Financial Services Index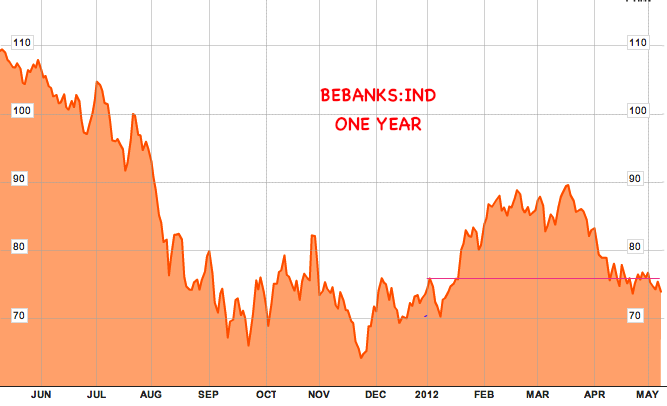 You can see that, after getting off to a sick start for 2012, the Euro banks have erased the entire Q1 gain in the last few weeks, this is some seriously ugly action and it seems to be spiraling out of control once again.
I'm happy to watch from a distance…