There are thousands of books on investing and finance in the world and of these, a hundred or so are must-reads – classics containing elemental wisdom that never gets stale or falls into disuse.
There are hundreds of thousands of news articles about the stock market and the economy published every month from hundreds of different media sources, from native online publications to decades-old market magazines to global media empires to national newspapers.
There are tens of thousands of finance-related blog posts on the web each month by traders, professional and amateur investors, analysts, bankers, bloggers, hedge fund managers and everyone in-between.
Some of these posts and articles and books are authored by guys in their living rooms and some by global strategists at trillion-dollar firms, some by anonymous posters and others by asset managers writing to make a name for themselves.  They concern everything from evergreen, age-old investing wisdom to ultra-current trends in the marketplace, everything from the post-World War II economy to the hottest new trade on The Street.
But who could possibly keep up?  With all of this incredible content and insight, it's a virtual certainty that we'll miss out on something important – crucial even! But there is only so much time in the day and with each new sunrise comes a fresh-baked clutch of brand new blogs and stories and books and tweets – an embarrassment of riches that forces us to forget about what we may have missed yesterday and last week and the Tuesday before last.
But what if someone had read every one of those timeless books, all of the articles that were published every day for more than five years and had categorized and highlighted each and every key blog post over that time period?  What if one guy had single-handedly sifted through all of those millions of pieces of market-related contents for seven days a week, six years straight, almost without having missed a single day's worth of intelligence?
And what if he had dedicated himself to distilling down the most incontrovertible truths and abject lessons from all of those trillions of words he's read on the subject into a central repository of investing knowledge – 300 pages of pure, unfettered verisimilitude?
In other words, what if the one person in the world who has read, absorbed and organized every important financial market fact in the history of investing decided to write it down, excluding the superfluous and emphasizing the canonical?
What if something like that existed?
Ladies and Gentlemen, I submit to you that such a work, in fact, does exist.  I've been sitting on a review copy for two months now and I cannot tell you enough how excited I am that it is now seeing the light of day.
Introducing Abnormal Returns – the book!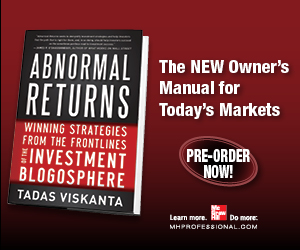 Abnormal Returns is the long-overdue first book from Tadas Viskanta, proprietor of the most important blog in all of finance, Abnormal Returns.  When I wrote the blurb for the back cover about how Tadas has written "an owner's manual for the market," I wasn't exaggerating – it's all in here:
Asset Allocation
The Yield Curve
Equities
Fighting the Fed
Short-Selling
Long-Term Thinking
Fixed Income
Leverage
The ETFization of Everything
Risk Management
Diversification
Market Structure
Active Strategies
Emerging Markets
Learning By Doing
Trader Failure
…and on and on, there's not an important topic related to becoming a better investor that's left uncovered – and all in a concise, conversational format. I read through it in early March and have already gone back to it on more than one occasion as a reference.
This is the antithesis of all the textbook-y tomes that have come and gone over the decades, Abnormal Returns allows you to skip most of them and simply consume the essence of the ideas themselves.  This is a book that I believe can help you improve as you begin to read it.
And as for the author himself, let me tell you something about Tadas Viskanta as a friend of his and as a colleague:
Every single blogger you know or have heard of logs in to their blog each night and looks to see what sites sent them traffic that day.  But Tadas logs in to see which bloggers he was able to send traffic to.  This is a great man.
If you only buy one book on investing this year, buy Abnormal Returns: Winning Strategies from the Frontlines of the Investment Blogosphere
(and if you buy two, well, you can also get mine I guess 🙂 )