What do you make of it when virtually every well-known company "beats earnings estimates" but the market continues on it's current quest to form a rounding top?
I don't quite know; I came into earnings season expecting not-so-great earnings thanks to high gas prices and global softness.  But this was supposed to have been offset by the fact that expectations for this quarter's earnings were already extremely low.
Apparently, they just weren't low enough to spark the usual fireworks, this is one of the lamest quarters I can remember in awhile reaction-wise even despite the fact that the beat rate is (as expected) so high.
My boys at Bespoke quantify it (with almost half of the S&P 500 names having reported: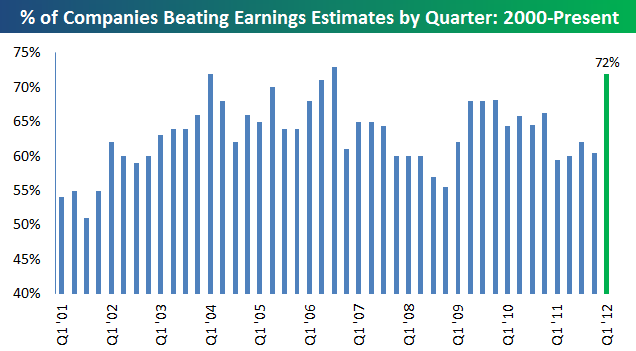 The beat rate means little in the absence of hot guidance, which we've certainly not gotten in the aggregate.
Source:
Earnings and Revenue Beat Rates So Far in Q1 (Bespoke)