When people speak of others in broad, sweeping generalizations, they usually do so for one of two reasons:
1. They are stupid
2. They are seeking attention
Or it can be some combination of the two
I'll let you decide for yourself which of the above choices applies to this situation…
There's this virtual financial advisory service (whatever that is) called Betterment that believes it is "revolutionizing" the asset management industry by offering plug-n-play online portfolio advice to the masses and advocating the same passive index strategy that's accomplished very little for the average investor these last 5 or 10 years.  Their message is that every professional who tries to help clients is bad and only a basket of index funds is the answer for every single investor.  Their pitch, as far as I can tell, is "give us the money and we'll charge you almost nothing to put you in a portfolio that you could actually run yourself for exactly nothing."  I know, how compelling.
I wish them the best of luck with their model and I highly doubt we are competing in real life (according to a recent report, Betterment has 10,000 accounts with a total of "mid-20 million" in assets – an average account size of $2500?  Can that be?), but they did catch my attention because of a foul blog post on their corporate site.  It is called "Financial Advisors are Bad for Your Wealth" – remember what we said about broad, sweeping generalizations – and it features a picture of a man's face on a pig's body.  Subtle – you stay classy, Betterment (screengrab below).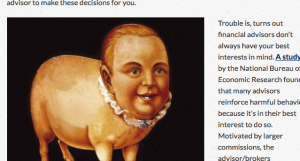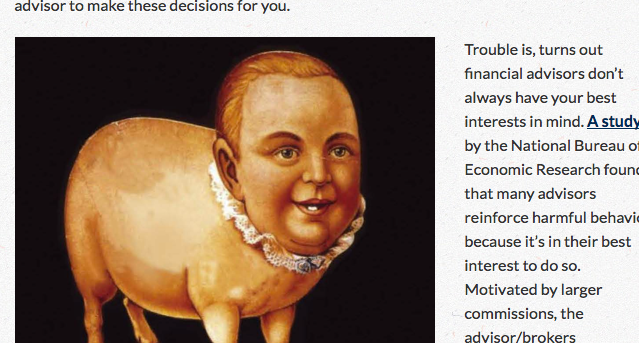 And the post has no author, presumably because it was written by a "content generation" marketing person or a gutless coward.
Anyway, it reads like a weak regurgitation of a study the entire blogosphere already seized on last week, in which secret shoppers from the NBER were sent to meet with "financial advisors" to get advice.  The study concluded that in most cases, the so-called advisors were detrimental to the poseur customers, they would frequently recommend action and transactions that would be lucrative to the firm and costly for the shopper.
The big problem is that the study's authors are clearly referring to brokers and hybrid advisors as "financial advisors."  But a broker is not a financial advisor (even though many are dually-registered and have given themselves a variety of titles and flavors that Baskin-Robbins would be jealous of).  In reality, had the shoppers been sent to true financial advisors – fee-only fiduciaries – the outcomes would have been much different and the nomenclature of the study itself would have been more apt.
Real advisors seek to use passive strategies (like what Betterment advocates to some extent) whenever possible and bend over backwards to cut down on heavily transactional approaches.  As our clients' fiduciaries, we are literally compelled to do so (and expected to do so in the eyes of the law).  In fact, we are not paid on transactions and the higher the internal cost of a fund or product, the less of a chance that we would ever recommend it; high costs go against the entire purpose of our enterprise.
Betterment might know this, they may have chosen to run with the story anyway sans any nuance or exposition of these differences.  Or maybe they don't know the difference and they couldn't tell that the NBER researchers clearly went to see REGISTERED REPS as opposed to INVESTMENT ADVISOR REPRESENTATIVES.
Betterment uses the terms "broker" and "financial advisor" interchangeably in their post, either because they don't understand the difference or because their weak point benefits from the intentional obfuscation.
The bottom line: If they knew better, they are disingenuous and nasty.  If they didn't know better, then they are stupid.
Either way, I'm standing by for Betterment's apology to the thousands of advisors who are not motivated by transactions and high-cost recommendations but are actually working with clients on a conflict-free basis toward their various life cycle goals.
And to the founders of Betterment, I'll say this – I respect what you are trying to do for under-served investors, but it is possible that we can all exist in the same world. And you should know that this isn't like back in the day where you get to smear a whole swathe of financial services professionals and no one talks back.  We talk back now.  We got blogs now.  We have a voice.  We don't have to sit back like Old Wall Street and allow you to infer that we are all pigs.  Bet you didn't expect that.
Apologize.
The offending post in question here:
Financial Advisors Are Bad For Your Wealth (Betterment)