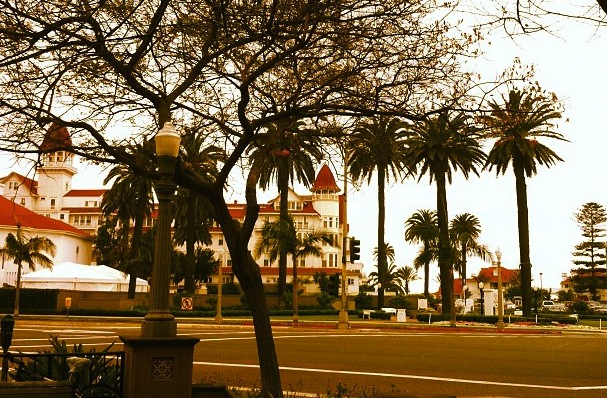 When I grow up I want to be Howard Lindzon.
Howard has spent a lifetime building relationships with entrepreneurs (and the investors who love them) and for the fifth year in a row he's invited them all to his annual venturefest, Lindzonpalooza.  Usually when I travel for business, I'm going somewhere to speak or sit on a panel discussion.  This time, I'm keeping my mouth shut – I have come to San Diego to listen and learn.
The crowd here is a hundred of Howard's friends and partners and the founders of companies he is funding or has funded in the past.  There are several well-known VCs here as well as Wall Street guys like Barry and I.
I took notes during the presentations so I could give you guys a sense of the latest and greatest in Howard's venture investing universe…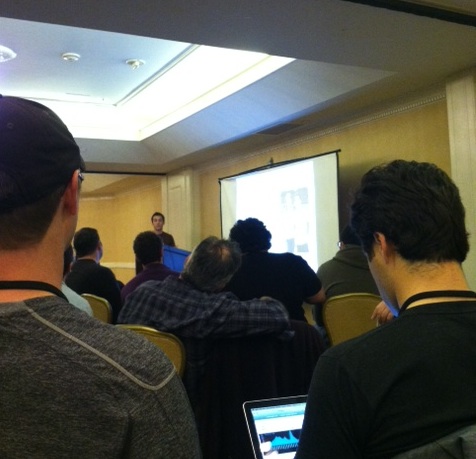 This is StockTwits for Comedy – so brilliant I hate myself for not thinking of it.  Unlike Twitter, which is an ocean of amateurs, your friends, news orgs etc, WitStream is mostly pros.  WitStream founder Lisa Cohen, a veteran comedy show producer, has assembled a raucous, brilliant selection of professional comedians who post to WitStream whenever a funny thought comes to them.  On nights when there's an election, a debate, an awards show or anything else, you'll see the hilarity come fast and furiously.  Lisa gave me access as well (I can tweet silly stuff with the best of them) and I plan to make better use of it this year.  My profile on WitStream here: http://www.witstream.com/#joshua_brown
On Air
This is very cool, imagine a way to make your own web show, stream it live and have the ability to take live calls from the audience – on video – while you're broadcasting!  We are just now getting to the point where the technology makes this possible.  It will look better and better and people will get more and more comfortable hosting these types of events.  You can have up to a thousand viewer participants but they haven't yet figured out what to charge for it or how to enable broadcasters to password-protect it (let's say you wanted to hold a business meeting virtually this way).  I can think of a million applications for this service, it is the next step in the web video evolution for sure.
My old friend Jon Labes, from the StockTwits TV days, is back with a new company called Stationcreator.  By 2016, 45% of global households will have access to the internet through their TVs.  Jon points to how clunky Youtube and other channels are on TV, you watch one and then need to use your mouse to make several other clicks to get to the next one and the next one – it's still too webby, not TVish enough.  That's what Stationcreator is working on, they want to give us the ability to lie back and watch web video just we do with ESPN or the Cartoon Network.  You'll be able to pull in videos from anywhere on the web and have them in a cue that keeps playing though all of them – just like having your own TV station.  You can also set up regularly scheduled programs like the White House's weekly address or auto racing live from UStream.  The opportunity is for anyone who wants to create their own TV station and populate it with videos from anywhere.  A blogger who posts a lot of videos can actually have a page on their site with these videos running continuously.
Ethan was the first entrepreneur I met when I arrived on Coronado Island, he's a young guy based out of Chicago and he's doing a lot of the traveling for his company, GiveForward.  Howard Lindzon calls it the Kickstarter for charitable giving.  The best way to explain it is, let's say you know of someone who's gotten really sick – a friend, a loved one etc.  If that ill person is facing thousands of dollars (or tens of thousands or hundreds of thousands) in medical expenses there is something very simple you can do.  You create a GiveForward page and send it around.  The most amazing thing happens – people who hear their story want to help and the money starts pouring in (60% of their incoming traffic comes from Facebook where these stories are first told).  Ethan tells us that $13 million has been raised for the families of sick people, sick kids, people who have had accidents, etc.  One quarter of that $13 million has been raised in just in the last two months!  This is an amazing story and a company that is doing much more than just innovating – they are healing and saving lives and bringing assistance to the people who truly need it most in a dark time.  GiveForward is not a non-profit, they take a percentage of the money raised as a business model.  Ethan is personally motivated by the fact that he lost his dad to cancer when he was 13, his co-workers are all equally dedicated and some of them worked for two years without any pay at all.  I really want to see this succeed.
There is a brief intermission.  Chicago Sean from StockTwits comes over to remind me of the the drunken escapades of the evening before.  I, of course, was sober as a judge last night.  Paul Kedrosky (of Bloomberg) comes over to say hello, I also chat with Jaime Punishill from Reuters and the Alfred brothers from Brightscope about how everyone is trying to figure out lead-generation for the financial advisor community. 
Here come the next presentations:
This company aims to solve the problem of people trying to teach themselves English around the world, a "f***ing massive" opportunity according the founder.  There are 2 billion people learning English right now, 25% of the world's population.  $110 billion was spent globally on language-learning in 2011.  The company connects English learners with crowdsourced participants using Skype and a program called SpeakAssist.  People all over the world can go to the site and connect to the English "tutors" from Colingo's site.  Tutors can convert these prospective learners into customers for ongoing native speaking classes online.  Colingo does ongoing training with their Engish-speaking tutors so that they can get better and better at training the learners that have come to them through the site.  They expect to charge $20 to $100 for monthly courses, a huge discount to what people all over the world are paying (into the thousands in some places like Japan).
Interlude: Brad Feld of the Foundry Group gets up to the podium with his dad, Stan.  These guys are two of the most legendary venture investors of our era.  Brad is a Jedi.  Stan is hilarious.  Brad pleas with us to help his Dad – over 70 and "the oldest member of the Lindzonpalooza gang" – get more followers and go viral (he is @sfelfd). 
This company has a patent-pending technology that allows them to quickly create videos for large corporate clients (they have several already) to increase conversions, engagement etc.  They also enable individuals to make quick, great-looking videos – think  real estate agents who can walk into an apartment they're listing, shoot pics and videos, and create a video advertisement for it on the fly – you are editing while filming and it is ready to go a nanosecond after shooting.  You can add a soundtrack, use multiple angles and post it to all your network sites at once (Twitter, Facebook etc).  He does a demo of this instant video creation and the crowd here freaks out, bursts into spontaneous applause.  The VCs are ridiculously impressed and the other entrepreneurs are visibly awed by the demo.  750,000 people have downloaded the Videolicious software so far.  The original version was an enterprise version for corporations.  Then they created the mobile version and it took off.  They are now working on a hybrid of the enterprise and mobile version, the model will be freemium – this new 2.0 version is coming this summer.
Grant Gurtin is a 21-year-old Brown University student who contacted Howard and said "I want to build the StockTwits of Sports."  The platform will allow users to follow several games at once via the tweets sent out by others who are watching the games.  It will be real-time commentary from curated experts (think local beat writers for each team) who are following the games along with running stats.  You will be able to go to Fanium's homepage and the most important game feeds are right in front of you.  The goal is to allow everyone to be up to speed on these games in a focused way – it's built over Twitter but it's not meant to be a Twitter-like experience.  The site and mobile app will launch within the next month or so.  This kid might just be disrupting ESPN – think about how much work it takes for a sports site to take the stats, write an article around it, edit it etc.  Fanium is going to have the most relevant info faster and in a more concise display.
Not really a start-up, this Israeli "social trading" company has raised $30 million and has been around for five years now.  "Just like in high school, in order to succeed in the markets, you need to copy from the best."  Traders from around the world are copying each others trades in real-time.  Howard refers to eToro as Zynga for Men.  Traders can essentially bet on other people's trades based on the actual data of how their previous trades have done.  People who have done a lot of successful trades attract thousands of copiers, who place their own funds (small money, like $500) alongside on the new trades.  Something about this reminds me of horse racing.
Rockstar entrepreneur Ash Rust, fresh from Klout, is out with his new company, SendHub.  They do SMS texts for enterprise firms who want to message their customers by text.  Teachers can mass-text their students, stock subscription services can alert their subs, political organizations can mobilize the troops etc.  The company has raised some decent money from a host of name-brand angel investors.  They are generating real revenue now from their clients and they want to take this mass-messaging concept beyond just text messages and get it across all platforms.  Ash has an awesome English accent, which I believe is important when pitching a room full of investors.
With Clarity, experts and advisors can advertise and offer their time and help over mobile and social media to the public.  People who need help can access their expert by mobile app, the expert can then accept the call and get paid the fee by the amount of time spent on the phone with the person he's helping.  Pretty novel idea…
This is an information interface company (I don't know what means) but their goal is straightforward: To allow machines to get more intelligent and human-like as they process data and to allow humans to understand what the machines are reading.  There are a lot of data-parsing companies around these days, this one creates visual representations of the data so that the interface for humans is helpful.  Brands can get a graph of when and how and by how many people they are being talked about.
The last presentation of the day – all emerging markets have prepaid wireless subscribers.  They all run out of money at some point.  Most of the world is on a 2G network with a $15 Nokia phone.  These people have do something called "flashing" – where they call their friends or their boss and hang up on the first ring.  That's a "flash" – the recipient now knows to call that person back.  The phone company gets no revenue from this.    On a daily basis this happens – are you ready – 8 billion times around the word (almost half of all cellphone calls are flashes each day!).  It is a well-known form of communication.  Starscriber goes to these countries and tells the consumers there is an easier more effective way to do this kind of "flash-messaging" with their service, they are up and running in Nigeria, Indonesia and Latin America.
***
 Anyway, these were the highlights from this morning's presentations.  I'm headed to the beach now to catch some sun and show off my abs.  Tonight is a massive dinner at Coronado Island's best Italian joint, Viggilucci's.  Hope this was interesting for you guys, back to my regular blogging schedule on Monday!