A million years ago, oil and natural gas could be substituted for each other at power plants and in home heating.  Not as much anymore.  We use oil in many industrial processes but really it is coal that natural gas is most often substituted with.
With that said, I'll show a chart that should silence anyone who's been claiming that either oil has to come down or gas has to go up because this non-meaningful ratio…
From Econ Matters:
The confluence of these price movements also brought the ratio between WTI and Henry Hub to a historical record high of 52:1 (see chart below)  while the ratio of Brent to Henry Hub is a jaw-dropping 60:1 !  (And we thought the 25:1 ratio reached back in August 2009, also a historical high at the time, was parabolic.)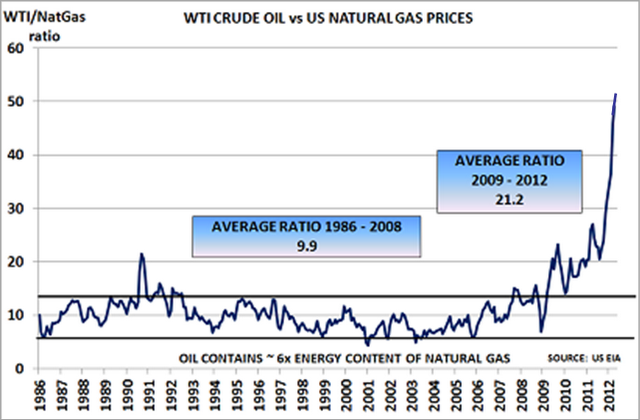 52 to 1.  Enough already.
Please stop citing the oil to gas ratio, it is irrelevance wrapped in ridiculousness.  Oil is a international commodity priced globally, natural gas is a local commodity priced locally and the two are not substitutes for each other in a meaningful enough way for this ratio to mean a damn thing.
Got it?
Chart Source:
Oil and Natural Gas Ratio Explodes to 52:1 (Econ Matters)