The China slowdown fears have become more and more of an issue for the US stock market, you can see it in the massive under-performance of the energy and materials stocks YTD.  Today the official PMI stats came out for March and the number shows a big jump from February (contradicting the weakness in HSBC's Flash PMI).
The problem is, this big jump from FEB to MAR happens every year – an average of 3 points each time.
China Reatltime Report at the WSJ explains this phenomenon: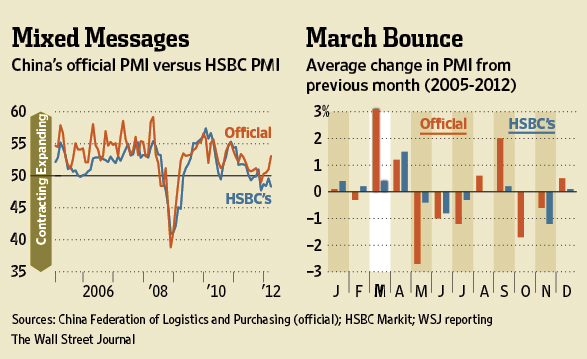 But there might also be seasonal adjustment issues at work. On average since 2005, the CFLP's PMI has bounced 3.1 points from February to March. That probably reflects failure to adjust for the impact of the lunar New Year, which has a negative impact on manufacturing in January or February, only for activity to rebound after the holiday is over.
Bottom line: Mixed messages and signals between the two PMI readings and the seasonal effect.  So the real question is whether or not the US market decides to interpret it as a positive.  This will give you some sense of how in-control the bullish money still is.  The ability to take a mixed report and use it to scare even more shorts to cover and more money to come off the sideline has been a regular features of the 2012 US stock market so far.
Source:
March Madness for China PMI (China Realtime Report)