Pay close attention here because this almost never happens – a look at the top 10 performing US bank stocks in Q1 2012 below, and amazingly, the bank with the largest market cap in the group is also the best performer: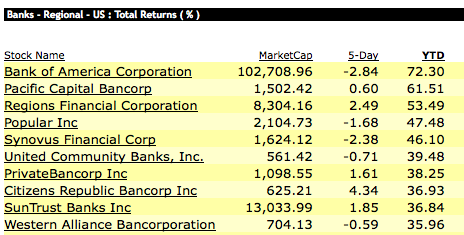 What are the key takeaways for stock market investors?  How did one of the most disastrously run and hated companies in America manage to outperform Apple this Q (up 49%) – the best run and most loved company?  I'll tell you:
1.  It's not about the company, it's about the dynamics of the stock and this stock had plenty of room to run
2.  The value managers and "beleaguered" hedge funds raced for the exits at the end of Q4 so as not to have to show the position on their books.  They were all caught up in the stock as a "reflation" play and its horrific performance during 2011 was not only an anchor on the returns of their funds but a scarlet mark of shame on their holdings lists, humiliating them day-in, day-out.
3.  Once the tens of billions worth of sellers were cleared out, there was no one left on the ask.  Nothing at the company improved from January through March other than the fact that there was no one else who wanted to sell.  Then the shorts started covering and the buried longs started dollar cost averaging and Europe got a bit better and the homebuilders started to speak more positively and the unemployment rate dropped a bit and interest rates stayed low and the rest took care of itself.
Here's my annotated guide to the rally in $BAC (you may click to embiggen s'il vous plait):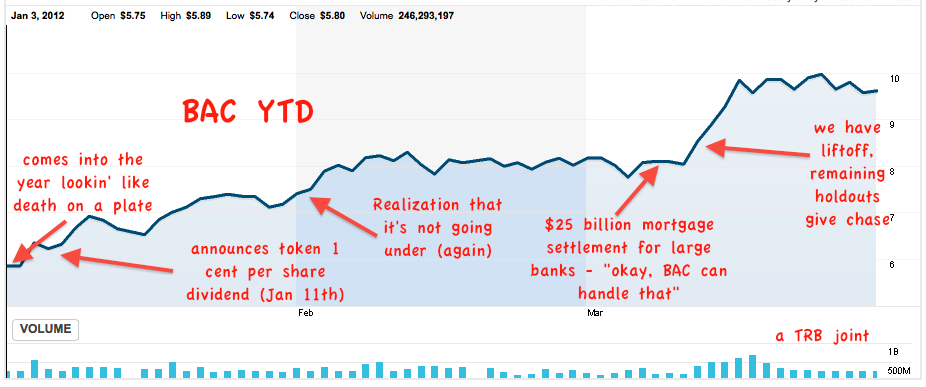 So again, the company has not improved one whit: Same management, same horrendous outlook for potential growth (non-existent), same demoralized employees and same sentiment surrounding the bank's future (shrinkage).  But when it became apparent that it wasn't going under, the stock looked ridiculous at 5 bucks a share – it just had to work.
And it did.
I missed this trade entirely; BAC was uninvestable for us due to one of our primary directives: Know What You Own.  There were way too many question marks for us to have a comfort level with a position like that at the start of the year – the mortgage settlement announcement from March 8th certainly eliminated some of the big questions, but not all of them.
Congrats to those who caught the move.  Also, congrats to the buried longs of 2011 who stuck it out (Bruce Berkowitz comes to mind), hopefully they've made a lot of their losses up.