Can anyone be truly diversified anymore?  The answer is yes but the window is closing.  This is because we've essentially turned everything into a stock.
There's a great piece of research up at Morningstar that looks at intermarket correlation over the last ten years.  Even looking past the hyper-correlated 2008 panic, we see that most asset classes were drifting in the direction of the S&P anyway.  Abraham Bailin points out that a lot of this has to do with market access.
For example, REITs used to trade on their own fundamentals until they were included into the S&P 500 in 2001, since then their correlation to the S&P 500 has tripled from 0.31 to 0.90 today – it's almost one-to-one for that asset class.  Ten years ago, the DJ UBS Commodity Index held a complete non-correlation to the S&P 500 of 0.02.  Now it's more like .49 and climbing.
What this means in terms of portfolio construction is that the game has changed and the old math of diversification is totally invalid.  Out of 11 major indexes across asset classes, only two have seen their correlation to the S&P drop since 2002 and they're both Treasury indexes.
Check this out: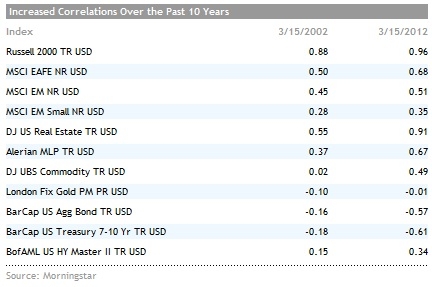 And to see this in starker terms, here's the big graphic that should always be in the back of our minds in terms of drift (Click to Embiggen!) :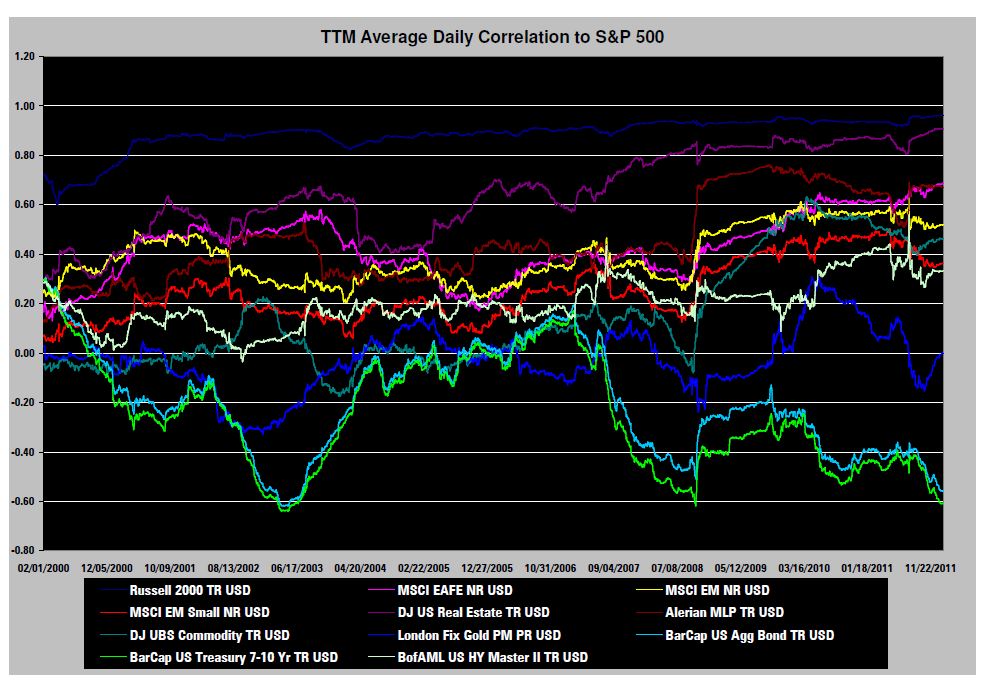 Source:
A Market Lacking Diversification (Morningstar)