I'm not a hedge fund so the vast majority of short candidates I recognize, I just file them away somewhere in the back of my mind.  I can't act on these things in most cases, I'm managing conservative pools of assets and my cowboy days are behind me.
But it's fun to write about 'em!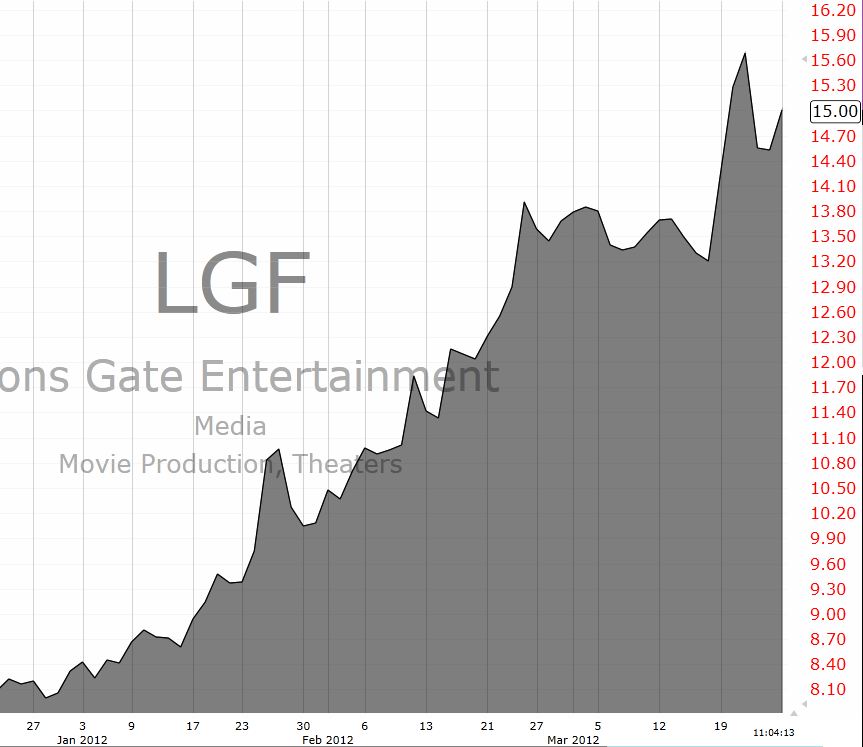 Let's look at Lionsgate ($LGF), which has been on fire because of its new blockbuster film The Hunger Games, which has just had a huge opening weekend.  The thing you need to understand about LGF, however, is that the film business sucks.  It is very much feast or famine in nature no matter who you are.  Even the big studios fall out of the tree every once in awhile.  Lionsgate (and its shareholders) already went through this boom-bust cycle a decade ago with the Saw franchise.
You can make lots of money owning the stock into a big opening weekend – but then what?  Usually nothing.  Unless Hunger Games 2 is coming out next month, this stock looks like a pretty obvious fade – it's still in a terrible, fickle, slowly-declining business. And as far as staying power for a hit film?  Here's what David Lieberman had to say at Deadline Hollywood this morning:
The big question now is: How much will Hunger Games sales drop?  Most films fall about 50% in their second weekend, but blockbusters are vulnerable to steeper declines. For example, Warner Bros.' Harry Potter And The Deathly Hallows, Part 2 fell 72% and The Dark Knight was -53%. Hunger Games will lose about 270 domestic Imax screens as they switch on Friday to Warner Bros' Wrath Of The Titans. These theaters accounted for about $10.6M in ticket sales, or 6.8% of Hunger Games' domestic total.
I am not short the stock, but I certainly wouldn't be long it.
Source:
Lionsgate And Exhibition Stocks Poised To Pop After Huge 'Hunger Games' Opening (Deadline Hollywood)