Jeffrey Gundlach was buying gold with his own money in the early part of the aughts decade and he was "wrong" for five years. To hear him tell the story, he was happy to be wrong because it took him time to accumulate the position. And then when he became "right", he became really right, all at once.
I bring this up because Gundlach is now talking about accumulating natural gas every now and again. He is emphatic about pointing out that he not buying in size or aggressively. Further, he is up front about the fact that he'll be "wrong" for awhile before he is right.
I see the same thing in natural gas that he does – the historic discount of nat gas in relation to crude oil is an absurdity – an absurdity which can run on for a long time, but sooner or later God'll strike it down. Yes, I was listening to Johnny Cash earlier today.
Wilbur Ross is also accumulating natural gas assets. He's been calling nat gas prices cheap for more than two years and he's been accumulating shares of Texas gas producer Exco Resources ($XCO) since 2010. He's at a 13% stake in the company at this point, having thwarted a go-private attempt. He's now been named to the company's board of directors.
And so far, Ol' Wilbur has been very wrong about both the "cheapness" of natural gas and the investment in Exco: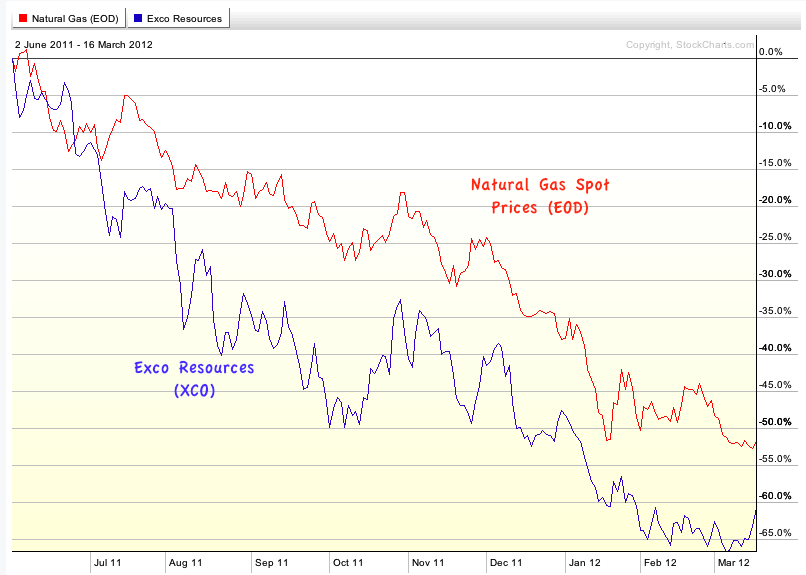 But Wilbur has played this game before. He's been around the block with these types of "it'll never go up again" commodity plays and he knows all about the need to start buying early so that you can get a full position on in time for the sea change.
Look at what he did with the steel industry – rounding up bankrupt assets when it appeared that steel prices and production were locked into a forever decline. In BusinessWeek they asked if he was crazy as he cobbled together International Steel Group (see 'Is Wilbur Ross Crazy?'). They weren't calling him crazy a couple of years later when he sold the whole thing to Arcellor Mittal at the peak of the global steel boom in 2006. Look at how masterfully he did the same with coal and coal-mining assets: buying a bankrupt producer for $780 million in 2003 when no one would even say the word "coal" out loud, then selling it for $3.4 billion seven years later. And lest you think him a two-hit wonder, understand that he's done the same thing with International Textiles Group (ITG) as well as International Auto Components (IAC).
There are contrarians and then there is Wilbur Ross, a whole 'nother animal (vulture, to be precise, though he hates the moniker).
And what Wilbur and Jeffrey Gundlach understand as investors that the traders never will is that sometimes you have to be wrong for a little while before you get it right, that you have to be early if you're to be able to really capitalize. It helps when you're doing this out of the public eye, of course. It also helps when you are already wealthy and established – this buys you a bit more time. Fortunately, Wilbur Ross doesn't run a mutual fund complete with daily NAVs published and reporters chronicling his daily ups and downs.
Everyone wants to nail the bottom of course, wouldn't it be great to be a contrarian and get the best possible price too? But getting the perfect price can be a big distraction, more trouble than it's worth when the potential of an investment is so outsized. And keep in mind, there are a lot more investors than traders on the billionaire lists.
Further Reading:
Notes from the DoubleLine Lunch with Jeffrey Gundlach (TRB)
Wilbur Ross, Coal Alchemist (DealBook)
Is Wilbur Ross Crazy? (BusinessWeek)