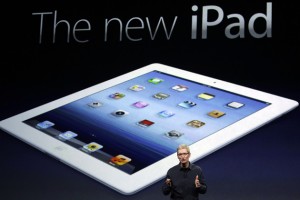 Tim Cook came out and introduced "The New iPad" today and you could practically feel the earth cease rotation for a few moments as the details poured forth.  The coolest new feature is that if you operate two of the new iPads long enough, they'll heat up so they can be used as a panini press.  Very forward-thinking.
Here are the highlights from around Le Web:
Check Out Apple's New iPad  (The Atlantic)
Apple Reveals Faster, Sharper iPad (NYP)
Your iPad Just Became Obsolete  (BusinessWeek)
This friggin' thing has a retina display!  And a 5 mega-pickle camera!  I don't even know what those things are!  (LAT)
Apple + iPad by the Numbers  (TBP)
The funniest tweets about The New iPad  (Slacktory)
Anyway, my kids basically have taken over my iPad 2 so I'll probably just pony up for the new one.  Just like they knew I would.