DISCLOSURE: I'm not long $LNKD nor am I recommending anyone buy it – you do you, I'mma do me. 
I'm not a fan of the LinkedIn site or service and my lack of interest in connecting with people or researching people with it probably kept me soured on the company's investment potential when it went public last spring.  But just because I have little use for it, doesn't mean it's not going to be an important company with a bright future – I'm a sample size of one after all!
So far, I haven't missed much with my knee-jerk bearishness, the name has essentially round-tripped to it's post-IPO highs: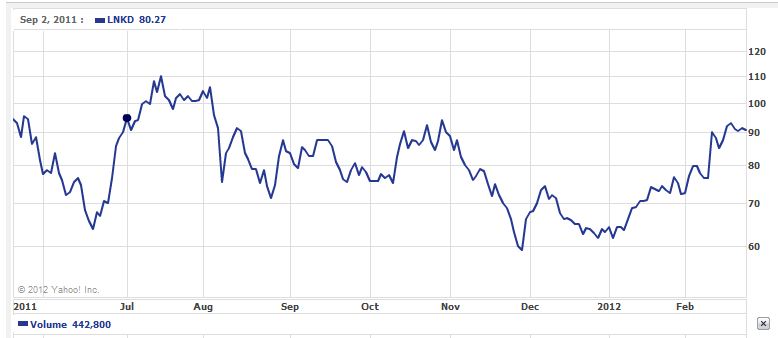 So I'm taking a new look at the stock and I'm liking almost everything I see strategically (not so much on current valuation, but that's the way with these things – you're either playing that game or you're not).  LinkedIn is being underestimated as it makes one clutch acquisition after another.  I'm not bullish on the stock from today's price just yet – but I am getting bullish on the story (an important precursor).
What the company is becoming is the Google of the Professional Experience – not just the Facebook of Resumes as many of us have derisively sneered in the past year.  I want you to consider their latest foray into email, via a nugget from Byrne Hobart at Digital Due Diligence:
LinkedIn's strategic brilliance is under-appreciated. At every stage of the recruiting process, LinkedIn is either commoditizing ("sourcing" a first-round list of candidates has gotten an order of magnitude easier in the last five years), or cashing in on (cheap sourcing means higher demand for contacting prospects, for which LinkedIn is happy to charge). They've also extended into company profiles and careers pages. And of course, they've become a superset of the résumé.

Their acquisition of Rapportive fits into this strategy nicely. Essentially, Rapportive saves you the Google search or Gmail search you'd use to figure out how you know (or should know) whoever sent you the email you just received.

(This is a clever acquisition for another reason. LinkedIn nearly owns searches for full names; a decent fraction of those searches are likely catalyzed by cold emails or emails from tenuous connections. By skipping the Google search, LinkedIn is cutting off Google+'s opportunity to steal the click. Expect to see LinkedIn push Rapportive heavily to new users.)
The problem here for bottom-up fundamental analysis guys is that the valuation is banoodles – $9 billion in market cap over an expected $1.28 billion in expected revenues next year.  But this is not so far-removed from where the group trades (or sells for) at this stage in the game.
Moreover, I think LinkedIn represents a property that could probably find new ways to monetize the massive network and data they have every month.  The fact that they've been in business so long (for a Web 2.0 company) gives investors the added confidence that there is a real asset and managment team here, not just a fad.  Finally, I'm certain that the 8 times revenue valuation also has something to do with the possibility that Facebook could easily use it's new currency later this year to simply acquire LinkedIn rather than attempt to replicate what the company already does so well.  Facebook's going to need non-banner ad revenue at some point, the LinkedIn model affers that.
Anyway, I'm not in the stock now – but I'm no longer sneering at it either.  I think there is something big here and it's definitely on my watch list.
Source:
LinkedIn undercuts Google (Digital Due Diligence)