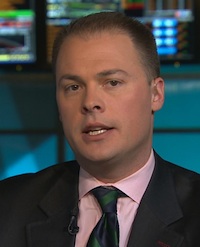 Bloomberg TV's doing an interesting show at 8pm each weeknight when most of financial television is done for the day.  Bloomberg Rewind, which began in November 2010, is really starting to hit its stride.
They're repackaging the most important interview clips and soundbites of the day (from Buffett, Stockman, Faber, Biggs, Cooperman, Gross, El-Erian)  while host Matt Miller is highlighting and discussing the stuff you may have missed with a different on-set guest each night.
This is helpful for people like me who have no TV in front of them during the day or don't have the time to watch hours of nothing just to get to the kernels of importance that tend to occur when smart people are interviewed about key topics.  Matt Miller & Co comb through the best of each day and condense it all into something fun and digestible every night.
I sat on set the other night for a taping of the show, which happens from 6:30 to 7:30 so that it's ready for air at 8 o'clock.  Prior to the fast-paced filming itself, Matt and I had a chance to talk about the financial media in general, where it came from and where it's going.
Matt's been a Bloomberg reporter for 12 years, he spent much of that time over in Germany and then in London.  This gives him an added depth of understanding when it comes to the ubiquitous topic of the European crisis.  His first appearance on TV for Bloomberg was almost accidental – he was overseas and the producers called up, they needed someone to go to for a segment.  It was one of those "Sure, I'll give it a shot" moments that can sometimes change lives and send people's careers in all sorts of unexpected directions.
Fast-forward to now and Matt is a daily fixture on TV, taping live from the New York Stock Exchange and Television Soundstage (NYSETS) along with the Rewind show each evening.
Joining Matt each evening to replay these great clips and add commentary are a revolving menagerie of regulars like David Kotok and Brad DeLong.  If they ever decide to have someone under 45 years old on, you might even see me and some of my friends pop up one day 🙂
I've just added Matt's show to my DVR so I can catch up with each day's best interviews and moments at night while everyone else watches Bones or whatever it is that non-obsessive Wall Streeters do after work.  You should check the show out too.
And follow Matt on Twitter here
And just in case he's hoping most people have forgotten about this already, here is Matt at a New York spa last week getting manicures and pedicures and all kinds of treatments for I'm not sure what reason.  Don't hold it against him though…