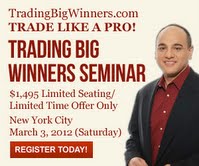 My friend Joe Fahmy is one of the best traders I've ever met.
Schooled at the side of the legendary Mark Minervini, Fahmy's style is both momentum-driven and risk averse at the same time. He trades when the market is healthy and bides his time doing research when the market is sick. And he is a Big Game Hunter – he's looking to bag elephants and find stocks to trade that have the ability to go up exponentially ($AAPL, $HANS, $NFLX, $ISRG etc), not 5 or 10%.
Joe is doing his first ever full-day seminar in NYC on March 3rd. Barry Ritholtz is speaking there and I am drinking free ginger ale in the audience. He is also doing one in LA. Go here to learn more about it:
Joe and I had a great conversation over sushi the other day and I asked him to expand on his philosophy for a series of three blog posts. Part 1 was on Stock Selection and Part II was on the Commonalities of Big Winners.  In this post, we talk about why it's so important to admit when you have no edge instead of operating in a market that could be brutal for what you do…
***
3.  What sets you apart from 99% of traders on the web (and probably in the country) is that you are willing to admit when the market is not suited for your style and it's better to go to cash.  Why do you think other traders have so much trouble walking away from a bad environment?
I've been trading for 16 years and I struggled with this problem for the first 10-12 years. For example, I would see the warning signs but I wouldn't listen to them and I still continued to trade. The end result was usually giving back a good portion of the gains I made during the healthy times.  I finally got sick of repeating this pattern and did two things:
1) I simply ACCEPTED that you should NOT be in the market at all times…PERIOD! I've studied some of the best traders throughout history. Many of them say this, but no one wants to hear it. People have trouble separating their ego from their trading and they often suffer big losses as a result. Another reason people have trouble walking away is they don't know what else to do with their time. I love trading and I'm extremely passionate about it, however, there's more to life than trading. Family, healthy, and spirituality are other things to focus on when you're not in the market. It's all about balance and keeping your life well-rounded.
2) I MADE A DECISION! 90% of people are unhappy with a certain area of their life, but NOT UNHAPPY enough to do something about it. What usually gets them to change is when they get to a point of total frustration. I was getting so sick and tired of having such great gains in the market and then giving a bunch of it back. Especially because I was trading in what I KNEW was an unhealthy environment. So, I made one simple change: I decided "No more!" I'm not going to trade during the bad markets and I'm just going to sit out.
Now I realize the obvious question is: "Why don't you short?" Two reasons. 1) I think shorting is very challenging and I prefer to stick to what I know best and 2) I trade so intensely during the good times that I prefer to take a mental break and get away from trading during the unhealthy times.
I sincerely appreciate the opportunity to do this three-part blog series. Readers of The Reformed Broker blog can visit www.TradingBigWinners.com and use the DISCOUNT CODE "TRB500" to receive $500 OFF the regular price of the seminar. Thank you and I look forward to doing more guest posts in the future.
***
Thanks, Joe!  It's been a pleasure to have your insights here, good luck with the seminar! – JB
Read Also:
Elephant Hunting with Joe Fahmy: Stock Selection (TRB)
Elephant Hunting with Joe Fahmy: Winner Commonalities (TRB)
Stay tuned for more.
Visit Joe's Seminar Page for details about you can attend!