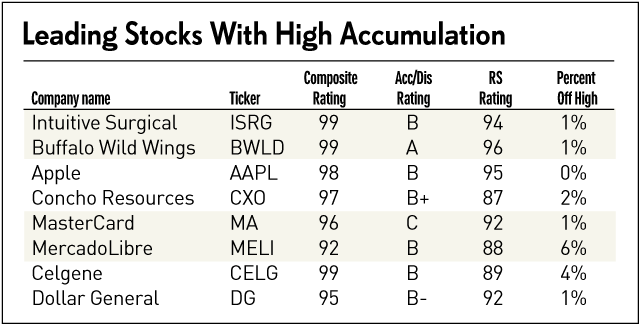 My friend Joe Fahmy once explained to me that 90% of new traders entering the market lose money not because of technique or lack of focus but because of the very first step they take – stock selection.  They simply have no idea where to begin looking for the "right" stocks to trade.
Investors Business Daily has a letter-grading system that shows which stocks are under either accumulation or distribution based on volume and trend – A,B and D stocks are "under accumulation".  It's not a magic fix to the stock selection problem but it may be a crucial fix for people who simply don't know where to begin – these are the stocks that big institutions are buying and this buying can take weeks or months.
At my shop, money flow and accumulation are fairly important variables when we look at stocks and sectors.
Here's IBD:
In the movie "All the President's Men," Deep Throat tells Washington Post reporter Bob Woodward to "follow the money" to solve the Watergate mystery. The same advice applies to investors seeking stocks about to break out.

Winning stocks typically start rising in heavy volume before they move to new highs. The strong volume increases signal that mutual funds and other big funds are actively taking positions.

It usually takes such investors weeks or even months to accumulate the many thousands or even millions of shares they need to fill out their positions. This activity will be reflected in IBD's proprietary Accumulation-Distribution Rating, which analyzes a stock's price and volume trends over the prior 13 weeks.
Keep reading:
Accumulation-Distribution Rating Key To Winning Stocks (IBD)