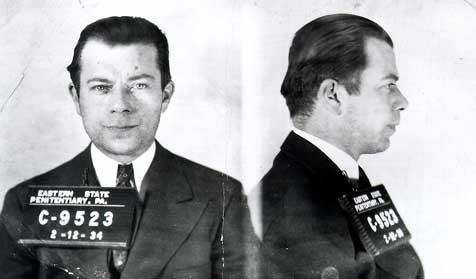 Even if you've never heard of the bank robber Willie Sutton, you've probably heard his famous response to the question "Why do you rob banks, Willie?"  He said "Because that's where the money is," – at least according to legend.  The New York Post has the story of his apprehension 60 years ago as told by one of the arresting officers, who is now 86 years old…
NYPD patrol cop Donald Shea spent his first four years on the job carrying a folded piece of paper that served as a wanted poster for William Francis Sutton.

Better known as "Willie the Actor" and "Slick Willie," Sutton was the most famous bank robber in America, as well as a notorious prison escape artist.

Nabbed three times over a 25-year criminal career, he broke out three times and stole some $2 million from banks.

Shea had kept Sutton's picture in his police memo book for so long it had become torn and faded.

"After a while, I even forgot I had it, with all the papers I had in my book," Shea, now 86, recalled yesterday. "Once in a while, I would look at it. Knowing that he was a known bank robber and they were looking for him all those years, it was part of the job."

Sixty years ago today, it changed his life forever.
Keep Reading:
Former cop recalls NYPD arrest of Willie Sutton 60 yrs. later (NYP)