I'd rather laugh with the sinners
Than cry with the saints
The sinners are much more fun
You know that only the good die young

– from 'Only the Good Die Young' by Billy Joel
Boy was I wrong at the start of this year! I was absolutely convinced that 2012 would begin with more of the same dish served in 2011 – continued outperformance of defensive sectors garnished with headline-induced jitters and served in an uncertainty cream sauce (see Fat Pitches from January 3rd).
I'm convinced that the single most important decision facing asset allocators right now is whether or not to join The Big Shift or to ignore it and ride it out.  Guys like me need to decide if we're going to dance with the sinners in the high-beta, risk-on sectors that have been leading this market or stick with the saints – the defensive, income-heavy non-cyclicals that saved our lives when things got dicey last year.
Have a look at the chart below (banks versus utilities) for some perspective on just how badly the sinners have been trouncing the saints of late: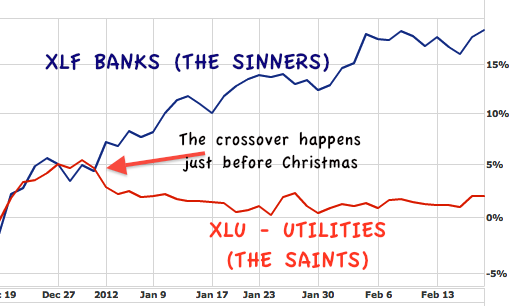 What do I mean by this?  Very simply put, last year the Dow outperformed the Nasdaq, large outperformed small, value outperformed growth and defensive sectors outperformed economically sensitive cyclical sectors.  This year so far all of those pairs have flipped – small, growthy, cyclical stocks are leading, Technology is up the most on the year (high teens percentage-wise) while the only one of the S&P's ten sectors down on the year is Utilities.  Bespoke shows the sector gains year-to-date through yesterday below: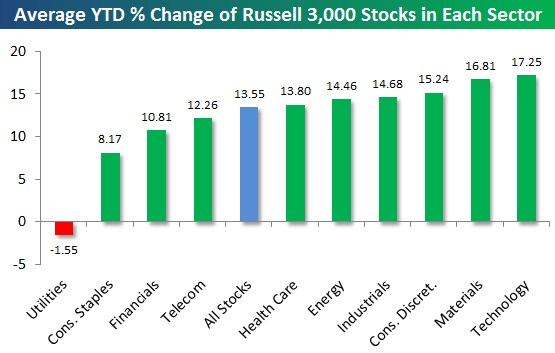 So does the Big Shift turn into a more permanent order of things to come for the balance of the year – or is it simply the lagging stocks of 2011 playing a bit of catch-up,  a trend destined to fade away just as the last person jumps on the bandwagon?
From Bloomberg:
Investors are shifting toward companies most-tied to economic growth as data on manufacturing, housing and jobs bolstered optimism in the world's largest economy and European leaders stepped up efforts to contain the region's debt crisis.

Financial stocks and commodity producers, the S&P 500's worst-performing industries in 2011, have climbed more than 11 percent this year. Utilities and phone companies have the only losses among 10 groups in 2012 after rallying last year.
I remain unconvinced that the economically sensitive stocks have any business rallying as hard as they have.  The monster percentage-gain runs we've seen in 2012 have more to do with where the stocks had come from then with what's happening now.
Many major industry groups within economically-sensitive sectors were priced for a recession at the end of 2011.  The Conference Board's Leading Economic Index (LEI) got up to a 43% chance of recession in Q3 2011, above 50% is considered an actual recession prediction.  The LEI has predicted every recession since 1979 – but it has also predicted five recessions that didn't end up happening, "false positives" if you will.
Last summer/fall there were recession false positives everywhere.  Not only was the Conference Board's LEI scaring everyone to death, but we had drastic GDP target cuts from banks and economic agencies around the world.  Morgan Stanley downgraded planet earth one day in August.  On the stock market, the things that needed to be discounted were discounted and the multiples that needed to be compressed were compressed.
Fast-forward a few months and those dire predictions of recession have come undone.  All the brokerages on The Street revised their GDP targets back up to something less scary and even the LEI's recession probability model cooled off, see the chart below (courtesy of Wells Fargo with a bit of John Maddening by yours truly):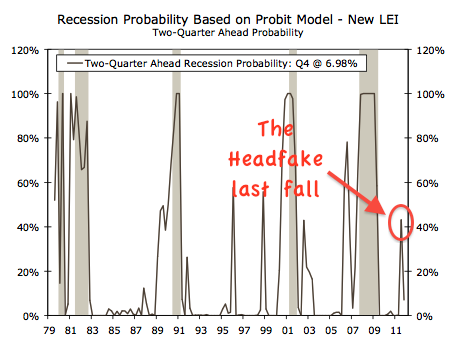 The LEI is now only indicating a 6.98% probability of recession – rather low by historical standards.  The snapback rally we've seen in economically-sensitive sectors is really just an un-discounting of this slowdown possibility, even if it's a rather forceful and relentless un-discounting to be sure.
But this un-discounting process looks to have gotten a bit ahead of itself and the market is now beginning to reflect the possibility of honest-to-goodness expansion.  I'll not say that it reflects optimism in the valuation metrics – many of which remain depressed.  But I will say that the tone of the tape has turned a bit giddy.  There is laughter accompanying the latest "news" out Greece these days, riots in the streets over there are greeted with risk-on rallies over here.  Good news is bought, bad news is bought and no news is bought – all in a grinding, locomotive-like fashion that only pauses briefly to allow a short to be covered here or there.
The trouble with this is that while we may yet be able to avoid another recession scare this year, the data simply does not confirm (just yet) what the homebuilders, banks, casinos, REITs and materials stocks would have us believe.  Instead, I think we're witnessing a major rotation, one of the biggest I've ever seen, and that it cannot get much further until the data on housing and jobs improves markedly and materially.
We've added a handful of sinners to the portfolios we manage, mainly in the mid-cap growth arena.  But beyond that, we simply haven't seen enough to disrobe, abandon the saints and join the bacchanal just yet.
Even though it looks like lots of fun from afar…