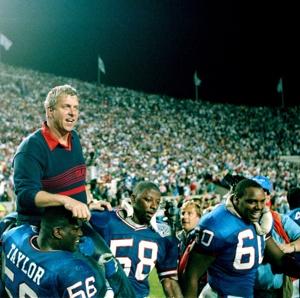 You have to understand something…
My first year of really getting into sports was 1986, I was nine years old and had watched probably 120 out of 162 Mets games that year with my dad.  I sat there asking him questions through 9 innings of baseball until he threw a pillow at me to shut up already.  And the next day we did it again.  And the Mets went on to win the World Series and it was just an amazingly ludicrous season for both of us, I'll never forget it.
And when baseball came to a close our attention turned to football – specifically my dad's team, the New York Football Giants.  In New York we call it that because from 1935 through 1957, there was a much bigger and more popular team in town called the New York Giants – a baseball franchise that was my dad's team before the Mets.  The baseball Giants moved away to San Francisco in '57 but the old-timers still use the now-vestigial term Football Giants mainly out of tradition – and in fact, it's how they're legally incorporated to this day.
So that '86 to '87 season was almost every bit as miraculous for the Giants as it had been for the Mets.  That's the Giants team I fell in love with – the one known for Defense and Toughness.  Phil Simms and Bill Parcells and Mark Bavaro and Laurence Taylor and the rest of the monsters.  It's 25 years ago but if I close my eyes I can remember sitting on the couch in my Simms jersey watching all the games, week after week.
So when people ask me if I'm excited that my New York Football Giants are in the Super Bowl, they have no idea.
Let's go Big Blue!