Disorienting, ain't it?
There you were, muddling through just like you've been told to do for the last four years and all of a sudden people start talking about a way out, a beginning of an end to the stagnation.  Apparently there are economic reports that are consistently improving.  Slowly but undeniably.
"We don't have to live to like this forever, you mean?" 
No, you don't.  You can get up off the ground now and do something.  You can guard your face with one glove instead of two now, you can use the other glove to throw a few jabs, go on offense for a change.
Remember what offense felt like?  Remember what it felt like to move forward with plans and schemes and dreams – without having to steal a glance behind every day looking for the sucker punch?  Without looking out for the next systemic left hook coming to bash you sideways?  Feels pretty good to go on offense – let the other guy know you're still punching.
We've all been through the ringer.  Some of us have gained a little extra weight and sprouted some premature white hairs.  Some of us have had to give up things and activities we loved.  Some of us have downsized our lifestyles substantially.  This economy has cost us all something – vacations, cars, jobs and even marriages.
And when you're living in a state of lowered expectations for so long, it becomes easy to imagine that this is the way it has to be.  That this is it and the best you can do is not get killed.
But…
But what happens if the treadmill speeds up beneath our feet?
What if this is for real now after so many stutters and stoppages?
What if people keep getting jobs and giving jobs?
What if the malls and the restaurants and the morning commuter trains start filling up again?
Are you ready for that?  Have you done anything over the last few years to set up for that possibility?  Or have you spent all this time in the bunker, doing nothing because of "the conditions out there"?
It's okay if you've been in hiding.  Or just shuffling through the months with your head down so it couldn't get chopped off again.  We all did a little of that.  But you might want to consider rubbing your eyes and coming outside.  You might want to consider emerging and shaking off the bunker dust.  Because there will be a future after all, gang.  And the people who can switch their mindsets the fastest are gonna own that future.  Same as it ever was.
Consider:
Real quick on your portfolio – If you're going to be in this market then you should, at the very least, have some passing familiarity with its history, for godsakes.  You should know that even if the secular bear market isn't quite through with us, we may have seen the worst of his claws and teeth.  You should study the other secular bear markets and then you'd learn something about "wine glass bottoms".  You'd know that in the 1966 to 1982 secular bear market (and all the others before it), the very bottom for stocks occurred NOT in a crescendo at the end – but rather somewhere toward the middle.  Think of 2009 as the middle and most severe point of this secular bear, picture that Dow 6500 print as the stem of the wine glass.  It doesn't mean we're out the woods, but it does mean that the follow-on sell-offs may not be quite as painful and should subside faster: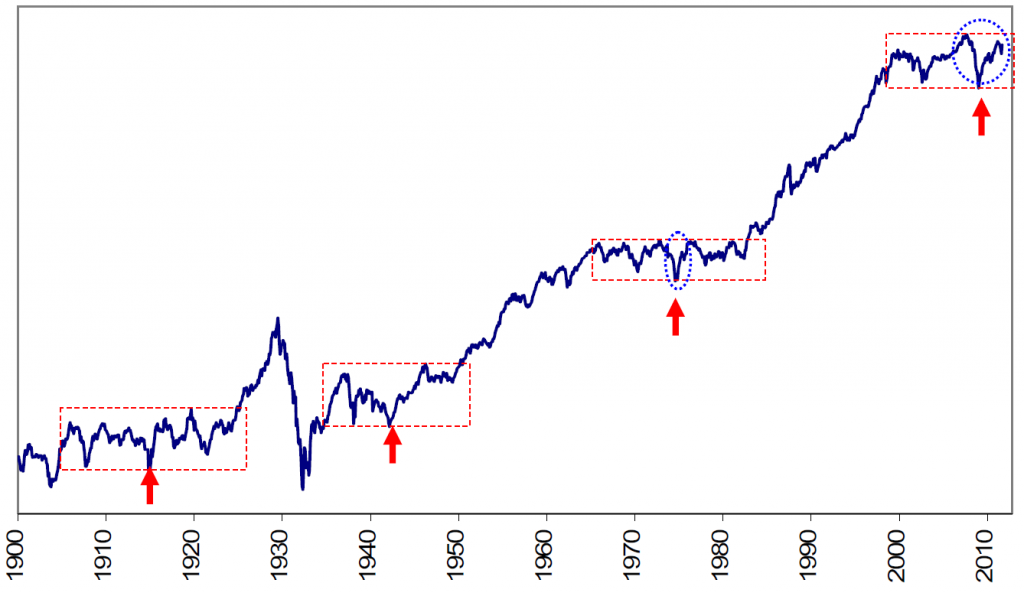 Last thought on that topic – anything bought between the nadir of a secular bear market and its actual end a few years later looks pretty goddamn good. Steinbrenner bought the New York Yankees for under $10 million in '73 with the economy, the stock market and the national mood at about its lowest point you could imagine…within 20 years it was a billion dollar investment.
The "Vision Thing" plays a big role here – we're not talking about mindless optimism, we're talking about guts and planning.
Career-wise – Right now there are a thousand skinny white outcasts and Asian kids out in Menlo Park, California coding their fucking heads off.  You think they're worried about fiat currency risk?  Or the Fed minutes from November?  Make no mistake, they're just going for it while you're reading about Portuguese bond auctions and letting the outcome dictate how you work and invest.  Every single one of these kids is about to become a multimillionaire and I bet most of them can't even point out Portugal on a map.  They don't give a shit!
Look, I have no idea whether or not the dollar is going to be debased, I just know that I want to have way more dollars either way.  Like a lot more of them.  And I won't get any more of them if I'm too negged out or scared to do something.
And these Chief Strategist clowns, don't even get me started.  The survivalist guys, the bunker guys?  Let me let you in on a little secret – they've ALWAYS been the losers.  They claim to be "realists" but really they're misanthropes who are unhappy and pray daily to see everyone else dragged down with them.  They haven't been right yet.  You've ignored them your whole life and you can go back to ignoring them right now.
They were losers in High School and they'll still be losers when their kids (if they ever have any) are in high school.  They've had their 15 minutes, they were rock stars for a brief moment and you somehow forgot that these were the losers all along!  Time to unforget that little fact.  You didn't follow these guys out onto the ball field as a kid because they never played any sports.  You didn't follow these guys out onto the dancefloor because they didn't know how to talk to girls and certainly couldn't help you get laid.  So why on earth would you ever follow them now?
Let them stay locked in the bunker surrounded by their typical masturbation rotation of Richard Russell letters and gold coin brochures.  Let them keep writing blog posts to each other and debating the exact date of The End.  Remember that you never followed them before, they tricked you during a moment of doubt and weakness, but you don't have to stay tricked.  Fuck these guys.
And worse than the losers are the haters, the glass-is-always-half-empty crowd.  "But it's not enough jobs added, and it doesn't matter because of the debt, and Iran, and Europe, and China, and oil prices…"  What makes these people so dangerous is that they are absolutely right on the details but dead-ass wrong on the consequences.  And they have no context.  They don't understand that throughout history shit has always been fucked up and yet people find a way to get things done and move forward.  It will be no different now, but the haters have so many statistics handy to keep you out of the game, under the bleachers with them and the rest of the cowards.
You know the type, the guy who looks at a solution or an improvement and says some stupid shit like "But they're just kicking the caaaaaaaaaaan, all they're doing is kicking the caaaaaaaaaan."  Do me a favor, bro – grab yourself by the hair, yank your head down into an overflowing sink full of water, hold your face under it until you stop wriggling.  You think I want to spend the last forty or so years of my life listening to you whining about kicking the can?
By the way, kicking the can is good.  Rather, having the flexibility to kick the can, which we do, is a good thing.  If you've ever run a business then you know this; you have a list of things you can spend on now and then you have a list of things you'd like to spend on when you're in a better financial position to do so.  Sure there's a moment when you have to take some pain, but being able to choose the moment is not a negative, no matter what the ideologues say.
And go to the gym.  Go do some push-ups or run around the block.  You're far less susceptible to self-defeating negativity when the blood is flowing and you're active.  This is more important now than ever.  The winners of the next phase are the people with the most energy.  The entrepreneurs who are willing to invent their own jobs where none exist and can will themselves into a career whether the Man in the Suit said so or not.  You can't kick the door down and walk into a room chest n' chin first if you're lethargic and fat.  Get the fuck up already.  Ritholtz is in the gym right now, y'all.
This is not about keeping a stupid New Years Resolution or anything quite so pedestrian.  This is about something so much bigger, a purpose so much higher.
I have no idea when this secular bear market and the attendant economic malaise will truly be over – but I know for a fact that if you're not planning for its end you're going to miss your chance.  You'll be flatfooted for the pivot, too close-minded for the turn, too fat for the sprint that begins when those Animal Spirits take hold.
So get your shit together.  Now.