A good jobs number but no relief in sight for the "long-term unemployed."  Methinks many of them will have to switch careers at some point, many jobs simply aren't coming back just like in between all other cycles before this one.
From Fortune (and Pew):
But all this is happening with six million fewer workers even as the population expands. If we delve into January's labor report a little deeper, prospects for the long-term unemployed (those jobless for six months or longer) didn't improve. The long-term unemployment rate was little changed at 5.5 million workers who account for 42.9% of the unemployed.
And the chart broken down by region: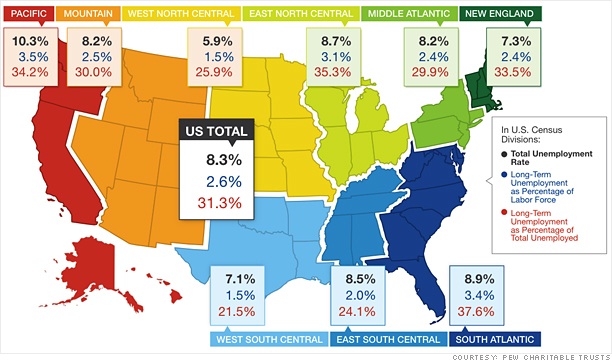 Source:
Great jobs report, but what about the long-term unemployed? (Fortune)