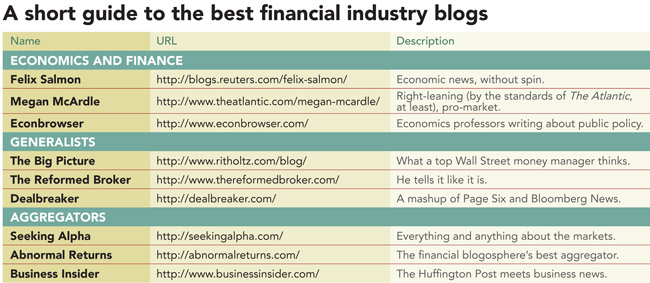 There's a great introductory piece on the financial blogosphere over at AdvisorOne Magazine that features your boy among other great blogs like Dealbreaker, Big Picture and Abnormal Returns…
As a cub broker in late 2000, Joshua Brown would begin his day by making phone calls. Fifty to 100 times per day, he would pick up the phone, dial a number and give his clients the rundown on the day's news. Waking up in the wee morning hours, Brown would scan newspapers, magazines and Internet sites, culling 8 to 10 of the most important stories. Out of these, he would create a picture of where the market was going. What was up and what was down. What was out and what was in. What to play short and what long.

But as Brown's roster of clients grew larger, so did his phone list. One day, he realized he didn't have the time to call each client with his market updates. The year was 2008 and the markets were imploding. Banks were failing, decades-old wirehouses were crumbling, and everyone, according to Brown, was getting it wrong ­­­— especially the mainstream press. So he logged onto WordPress, opened an account, and started writing.
Keep reading:
Financial Blogosphere Must-Reads (AdvisorOne)