Occupy Wall Street has drawn the political battle lines somewhat differently – between the 99 percent and the 1 percent. But when you drill down into the data, you can see another, even steeper division inside the 1 percent itself. The ultra-rich of the 0.1 percent have pulled far ahead of the merely rich who make up the other 0.9 percent at the tip of the income pyramid. The divide is cultural and it is economic – and if it becomes political it could transform the national debate.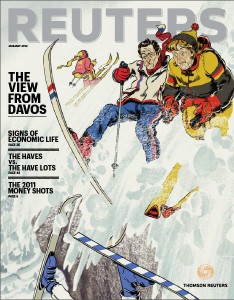 If Dr Seuss were alive today he'd have a field day with the concept – millionaires are maxing out their credit cards just to keep up with the top. 02% within the top .1%.  The 11th through 20th richest people in the world are positively incensed with the disadvantages they face compared with the 1st through 10th richest people in the world.
As a descriptor, the word ludicrous will have to suffice while the English-speaking world conjures a more apt one.
In a magnificent look inside the gradations of the uber-wealthy in Reuters Magazine, Chrystia Freeland teases out the various threads that are fraying the One Percent's cord during this, our moment of Global Class Envy.
And your boy gets quoted at length about the distinctions being drawn between not only the amounts of wealth that are causing consternation but the origins of people's fortunes as well.
Check me out:
We always knew the left was suspicious of high finance. What is surprising is that Wall Street's yeomen have become suspicious of their bosses.

Here's how Joshua Brown, a self-described New York-based investment adviser to high-net-worth individuals, charitable foundations, and retirement plans responded to complaints by a number of Wall Street chiefs that they were being unjustly vilified. Brown's tirade, which he posted on his blog, The Reformed Broker, quickly went viral: "Not only do we not 'hate the rich' as you and other em-bubbled plutocrats have postulated, in point of fact, we love them," Brown wrote. "We love the success stories in our midst and it is a distinctly American trait to believe that we can all follow in the footsteps of the elite, even though so few of us ever actually do.
Read the whole article, there's a lot going on here and it's fascinating stuff.
Source:
The One Percent War (Reuters Magazine)