Since the start of the year I've been telling you that whether or not China was in for a hard landing was way more consequential for stocks than any of the bleating out of Europe.  The case I made was that:
1.  Everyone knows how bad Europe is and half The Street is already expecting the worst outcome
2. The impact of a severe contraction in Asia and Brazil on S&P earnings would be way more damaging than a Euro recession (which looks like a fait accompli anyway)
3. Without cyclicals joining in, this market would go nowhere (consumer staples, healthcare and utilities can only take us so far) – and the cyclicals ain't going anywhere if there's another leg down in EM GDP rates and spending
And so I've been way more focused on the China picture since the year began – you can have that Belgian bullsh*t all to yourself.
I have very little in the way of growth stocks in client portfolios now, I'm definitely underweight the majority as risks of slow growth this year are obvious in all of the data.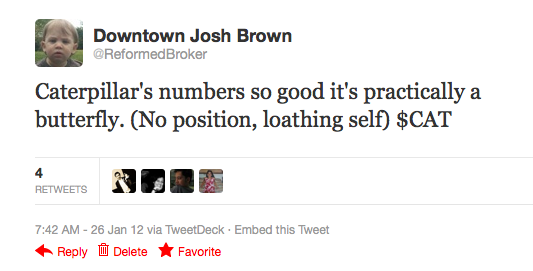 But earnings reports like this wildebeest out of Caterpillar ($CAT) this morning are definitely eye-opening.  Caterpillar is very important, one of my new bellwethers now that Goldman and Fedex and GE have proven unimportant and unreliable in gauging the appetites and attitudes of the market. And Apple is no good because Apple is it's own asset class, inhabiting it's own world.  Apple could sell product in Sierra Leone in the middle of an urban gun battle.
But Cat does business in every single geography around the world.  It sells big tickett items, many with long lead times and it never gives aggressive guidance to The Street.  It is an excellent proxy tell for whether or not China's going to get much worse or level off.  The numbers they reported this morning say a soft landing may be in the cards – yes, just one datapoint of many, but still worth considering.
Observe (via TheStreet):
Caterpillar(CAT), the construction and mining equipment maker, reported a fourth-quarter profit of $1.55 billion, or $2.32 a share.
Revenue was $17.24 billion.
Analysts polled by Thomson Reuters expected earnings of $1.73 a share on revenue of $16.05 billion.
In the year-earlier fourth quarter, Caterpillar earned $968 million, or $1.47 a share, on revenue of $12.81 billion.
Caterpillar raised its revenue outlook for 2012, saying it now expects revenue of $68 billion to $72 billion. Profit is expected to be about $9.25 a share; analysts forecast $9.07 a share.
Beat and Raise, Charlie.  Beat and Raise.
Cyclicals (industrials and materials in particular) are my new tells, even if I'm not yet confident enough to be long them in size.
My daily linkfest is live at the Wall Street Journal this morning, check it out:  The Good Leads
Read Also:
Repeat After Me: China is the New Europe (TRB)
UPDATED:
Eric Platt just took Cat's 2012 forecast and made an informative slideshow (which I link to hear as all one page 'cause I love you guys):
Caterpillar: This is What the World Will Look Like in 2012 (Business Insider)