That's the environment right now.  It could stop on a dime and reverse, but consider:
1.  Bank of America is indicating north of 7 bucks this morning following an earnings report they built out of pipe cleaners and paper machet for the Wall Street Science Fair.  And that's on just 9000 layoffs of the stated 30k – imagine if they could fire everyone!
2.  Small caps and growth stocks are outperforming and small cap growth itself has been the superstar thus far in 2011 (up 5.13% YTD versus, say, large cap value up 3.38% thus far this year).
3.  Bespoke notes that all the losers from 2011 are this years winners.  They say that in the S&P 500, the 50 stocks that did the worst in 2011 are up an average of 11.2% in 2012.  Investors in 2012 are acting like rebellious teenagers and rejecting everything their 2011 parents loved.  Low quality specs stocks over high quality dividend names has been the play so far.
4.  And finally – and you're going to love this – European bank stocks are on fire.  Here's a valuation chart from Reuters via ValueWalk indicating why on even a hint of good news, these banks can outperform: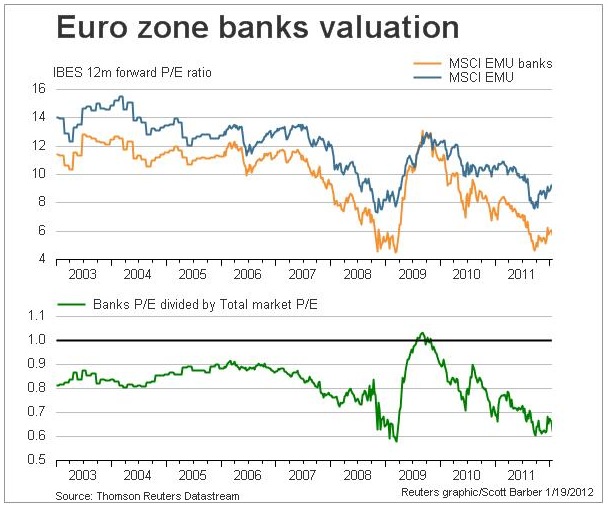 How long can this moment last?  Maybe an instant or maybe longer than you could possibly imagine – the nature of these things is such that it is very difficult to fight, even if one decides not to play.
Here's my daily linkfest at the Wall Street Journal this morning, hit it up:  (WSJFA)