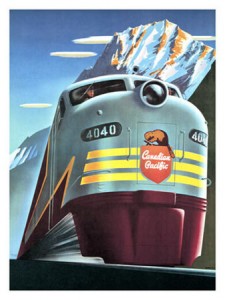 There's a fascinating behind the scenes dialog taking place right now between Pershing Square activist hedge fund manager Bill Ackman and the CEO of Canadian Pacific Railroad ($CP).  Ackman, who has made no secret of his desire to follow in Warren Buffett's footsteps and possibly exceed the man's long-term returns, has found a railroad investment just like Berkshire came upon the Burlington Northern (which he ultimately bought).  But Ackman means to make changes to Canadian Pacific from the outside…
And the good news is that both parties have gone public with their email exchange.  What follows is a fascinating look into the battle Ackman is waging against entrenched management for full valuation of the railroad…
From the Globe and Mail:
From: William A. Ackman

Sent: Wednesday, January 04, 2012 7:22 AM

To: John Cleghorn

Subject: War and Peace

John,

I woke up early this morning thinking about my favorite Canadian railroad and it is causing me to become more interested in military history. We have had what the historians would likely call a border skirmish. It is not clear who fired the first shot, but a few people have been hurt, some egos have been bruised, and the arms dealers (the media) are calling for and attempting to gin up a fight. They of course sell more papers if a fight occurs so their motives are clear.

When a border skirmish takes place, sometimes it leads to full out war and other times, things die down, borders are redrawn and peace can remain in both lands.

The choices from here as I see them are (1) representatives from our side and your side sit down and work this out promptly. Working it out, in my view, is the quick addition to the board of two representatives from our side, and Hunter's hiring as CEO. The second alternative is that we will be forced to launch a proxy contest for the upcoming annual meeting where we will seek to replace a greater number of the existing directors with extremely highly regarded business executives who share our belief that management and board change is necessary at CP.
Keep reading:
War of words: The e-mails that touched off a battle (Globe and Mail)