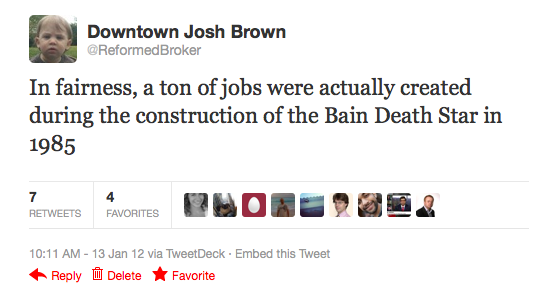 I kid, I kid!
But seriously, the hatred toward Mitt Romney because of his private equity background has gotten a bit carried away.
Let me get this straight – for 250 years we elect nothing but lawyers (LAWYERS!) and the occasional ex-general to the White House – but someone who built a private equity firm is all of a sudden not good enough?
Look, I understand that your ideal candidate is the folksy owner of a local pharmacy who jerked root beer floats for your grandparents on Main Street and does Habitats for Humanity with his spare time, but seriously, grow up.  Our economy is and has been based on some people being good at taking things away from other people for awhile now – and Mitt Romney is exceedingly good at this game.  If modern-day Capitalist America were a marathon Dungeons & Dragons session, Mitt would be the motherf***ing Dungeon Master.
So yes, his firm Bain Capital came into companies, laid people off and enriched itself.  So what?  That's a perfectly legitimate role in the scheme of capitalism even if it's not a role that you personally would ever want to play.  I personally don't want to be the guy at a multi-national corporation that decides to relocate a manufacturing plant from Kentucky to Kazakhstan – but someone has to if the company is to remain competitive.  I personally don't want to work as a public defender, sticking up for murderers and rapists in the American justice system – but someone has to if the Constitution is to be upheld.  Mitt's industry takes over companies that will likely not remain viable for long based on bloated cost structures and unexploited opportunity.  Done correctly, private equity involvement cleans out dead wood and puts the right people into place.  Sure, they enrich themselves along the way – but that's what they are supposed to be doing – should they work for the entertainment value?  To have a place to go in the morning?  Give me a break.
And besides, Mitt is good at it.  Was a serial business failure like W any better just because we approved of the industries he failed in (oil and baseball)?
So yes, I'm probably voting for Mitt unless someone digs up a graveyard full of infant carcasses behind his house or something.  He's smart, capable, understands the economy, is not owned by the church or the labor unions and he probably won't embaraass us on the world's stage.  he's not a drinker, a smoker or a philanderer that we know of.  He's also not borderline illiterate or proud of his own ignorance (which seems to be the in-thing in his party these days).
A casual perusal of the landscape shows that Mitt is the only viable choice for me in a tough year for American political leadership…
1.  Obama: Nice guy, in way over his head, has a flawed ideology and no clue how business works.  I didn't vote for him in 2008 but when he won I was rooting for him to fix the place.  And then he blew his mandate on Healthcare rather than the economy and straightening out the financial system.  And inexplicably doubled down in Afghanistan.  He needs to go.
2. Huntsman: In a perfect world, he would be vice president and teed up for an eventual run.  He's probably the most qualified to do the job, but his worldliness, willingness to work with Dems and forward-thinking mentality are all detrimental in the GOP primary process (a process by which the candidate who demonstrates the most willingness to bring back Norman Rockwell's America wins).  Huntsman thought it would be a good idea to speak flawless Mandarin before an audience of the Republican base, he may as well have put on a pink cowgirl's costume with ass-less chaps and bowed down to Allah, boy does he not know his audience…
3.  Gingrich:  Newt is the most polarizing of the candidates, the Dems would probably force themselves to fall back in love with Obama just to grab enough independents to beat him.  He can't convert middle of the road, rational independents like Mitt can.
4.  Paul:  Ron loses as soon as the question of Defense and Military spending enters into the discussion – within his own party, let alone in a national contest.
5.  Santorum:  His childlike sense of wonder and storybook views on science are adorable, but frankly, this is like George W Bush without the charm.  The medieval judgmentalism makes him unlikely to pull swing voters either, hence his candidacy would be a give-away to team Obama.
6.  Perry:  I'm too busy to say anything substantive about Ricky Bobby Rick Perry right now.  Let's just say my fancy book-learnin' doesn't permit the two of us to see eye to eye on very much.
This is a finance blog, so let's not get too political here, let's be pragmatic.  Your choice here is basically a bunch of guys who cannot win a national contest, a guy who already won and has proven that he's not up to the job, OR a guy with business experience who has a good shot at winning over the middle ground – despite the fact that you may not love what he did for a living prior to public life.
Not a very tough choice at all.  At least not for a pragmatist like me.