Barry won a pretty big bet with Jeff Macke (of Yahoo Finance's Breakout) when the two disagreed over how December and holiday sales would turn out in the end (check out Retail Rematch here).  Jeff was focusing on the NRF's polling and surveys  in which they ask consumers what they were planning to spend ("up 20%!") while Barry was focused more on the actual sales data itself (as you'd expect of a quant as opposed to a soothsayer).
Turns out December was horrifying based on both expectations and absolute sales.  Retail sales were flat year-over-year this Christmas.  But Jeff hasn't yet conceded, blaming the weak total numbers across the board on the horrific shortfall at Sears.  Reality check below:
U.S. retail sales almost stalled in December as Americans appeared to tighten their budgets, ending a solid holiday shopping season with a whimper and raising questions about economic growth in the months ahead.

U.S. retail sales rose a slight 0.1% in December from November, the third consecutive month of slower growth, the Commerce Department said Thursday. Sales of cars and auto parts surged, while sales of gasoline, food, electronics and at department stores all declined.
The Wall Street Journal has a story about this disappointing season along with the below monster infograph breaking down December's retail sales by industry.  If you follow the link below, you'll find the article itself along with an interactive version of this bad boy.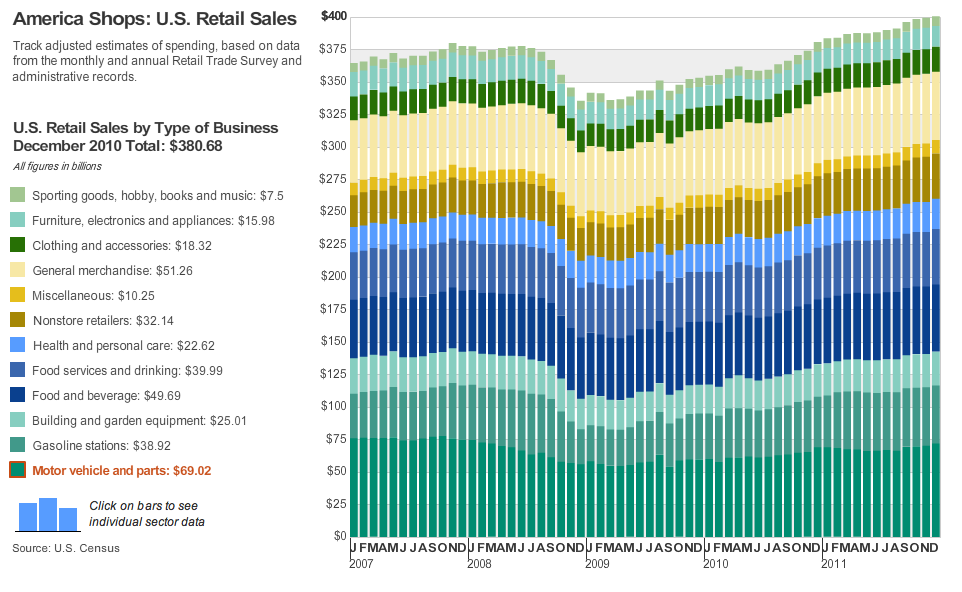 Source:
Sluggish Sales Stir Concerns About Growth (WSJ)