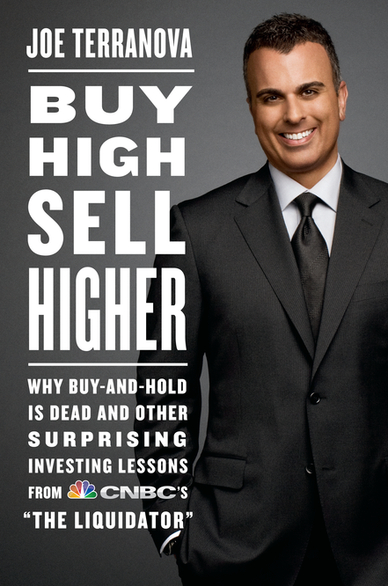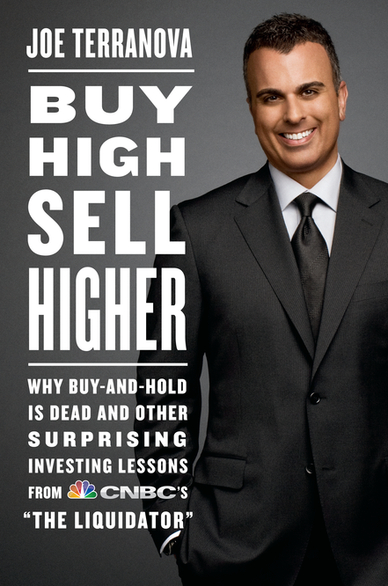 Today we have a special treat, a little Q&A with Joe Terranova, chief market strategist for Virtus Investment Partners (AUM $25 billion).
You know him from CNBC's Fast Money (where I sometimes pop up now and then) but you may not know that Joe has a great book out for traders and investors alike called Buy High, Sell Higher: Why Buy-And-Hold Is Dead and Other Lessons
.  I read through it pretty quickly, it's loaded with great anecdotes and core principles that Joe has spent a career collecting and putting to good use.
Make sure to check out Joe's book, a link at the bottom, enjoy!
***
 1.  What made you write a book?  Are you crazy?
I decided to write Buy High Sell Higher in 2009 as a direct result of a personal tragedy that really affected my trading and investing in the markets. As a consequence I realized that my ability to navigate that very difficult time was similar to what folks experienced in 2008 but yet unfortunately in 2008 they did not have a favorable outcome as I did in 2009. Main Street America liquidated far too late, while professional investors were out well ahead of the 2009 1st quarter storm. I wanted to share my experience of 2009, a very rough difficult personal time,  and the process by which I was able to quickly acknowledge and correct my struggles. The conclusion of the book focuses on that.
2.  I really like the part where you talk about the lost camaraderie now that traders are sitting in isolation as opposed to working in the pits together…

I talk in the book about the lost camaraderie that traders now feel as they sit in isolation trading on electronic platforms versus the old way of an open outcry system. I like to call it a buddy system which is mandatory in this new world environment to face the challenges of a market that is now dominated by algorithmic high-frequency trading. Main Street needs to understand that human nature is the enemy of all traders and investors. Your ability to admit you're wrong on a consistent basis quickly is incredibly difficult. Having a buddy system surrounding you; whether it be working with a financial advisor, or your own investment oversight committee allows for the openness and constructive criticism in the recognition when the moment has arrived that the risks that you're incurring are beyond what was initially planned for in your risk assumption calculation.
3.  The title of your book, Buy High Sell Higher is fairly provocative and sure to confound anyone from a value discipline – why do you think people have so much trouble understanding the concept of buying winners that are already on the move? 
The title of the book is controversial. Warren Buffet is a legendary investor who has made buy-and-hold the favorite theme on Main Street. The Wall Street marketing material of the last 20 years I believe is wrong  – you cannot do what Warren Buffett does. I  don't have the ability, nor does Main Street have the ability, to emulate Warren's buy-and-hold. Simply put – KISS works best in the markets – we don't have the amount of zeros at the end on our name or in our bank account. Therefore we don't have the financial wherewithal to take the emotion out of a riotous times in the marketplace. We can't hang in there like Warren does and hope it comes back. The book is a call to action, it is time for investors to treat the market not as a hobby but as a business to take responsibility, to do homework, to get organized, to get involved and be active – no longer is the passive approach where each quarter you receive your quarterly statement and stick it in the draw and hope that the market returns the favorite strategy. Value investing is a good model for some, 4 out of 5 times it might work but there is the one occurrence such as Enron or the 2011 examples of RIMM, FSLR that wipes out the retail investor. Main St. does not have the intellectual capital to endure during those types of the sell offs. Look for the Home Run is fool's gold, but far too common. The singles and doubles hitter achieves long-term success in the markets. They understand how to trade "confidence" which is what Buy High Sell Higher really is. They understand to quickly move on when confidence is lost. The barriers to entry in our business is none. Anyone with $25k can start whacking away on a computer, the trick is knowing "when to sell".
4.  You talk about the importance of learning to trade from the right people, who were your most important mentors and why were they special?
Finally I've learned so much from the success of many, and the failures unfortunately of many that I have worked with and managed over the years. From each of them I think I had an open mind and the humility to try and understand what drives them to success and positions them for continual failure. There are many folks that I could say were mentors along the way but I think what is most important is  each of them had was the understanding that the first mission for anyone involved in the markets is to quantify risk. Understand the mantra "maximize winners and minimize losers". Identify first how much you could potentially lose, not swing for the fences. If you open a business, isn't that your first question, how much can I lose? The common denominator for all that have helped me along the way is that the execution of flawless discipline supersedes all. They also brimmed with humility to understand that most times we will be wrong. But the key is to minimize the loss through stop placement -via price or time –  and understand that ego is the your ultimate enemy.
***
Thanks, Joe!
Buy High, Sell Higher: Why Buy-And-Hold Is Dead And Other Investing Lessons from CNBC's "The Liquidator"