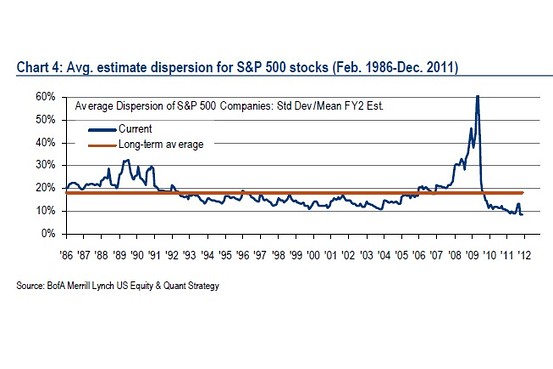 Run, don't walk, to read Jonathan Cheng's excellent Herd on the Street piece that the above graphic comes from.  It appears The Street may as well just be one guy at this point, the analyst herd is practically marching in single file with their S&P 500 earnings estimates right now:
…analysts are more clustered than ever in their profits estimates, says Savita Subramanian of Bank of America-Merrill Lynch. According to her calculations, estimate dispersion for S&P 500 company earnings are now down below 10% — the lowest that figure has been since at least Feb. 1986 (check the chart). In other words, it's been at least 25 years since analysts were in such close agreement about where earnings are likely to land.
But hey, maybe they'll all be right and this clustering will have been appropriate.  What do I know – it's not like I'm brave enough (or foolish enough) to try to estimate the earnings of 500 companies 12 months from now, lol.
Source:
Herd On The Street: Company Analysts All In This Together (WSJ)