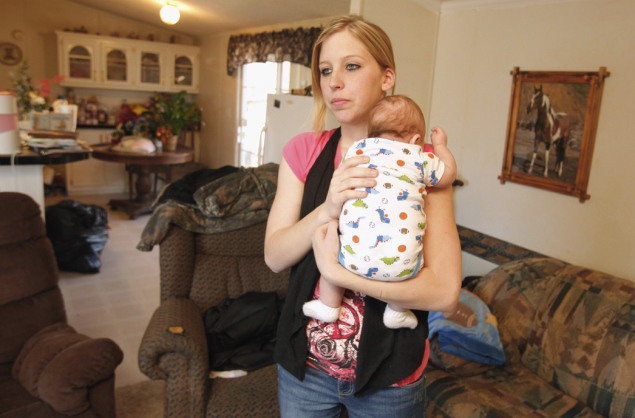 This is a made-for-Hollywood story that has me obsessed with every detail.  Sarah Dawn McKinley, an 18-year-old widowed girl with a 3-month-old baby gets the green light from a 911 operator to fire away when two men break into her house on New Years Eve. It's both frightening, exciting and it has a happy ending.
It's not hard to see why America is riveted.
Get up to speed here (via CNN):
Home alone with her 3-month-old son, McKinley of Blanchard, Oklahoma, said she decided to make a stand when the two men tried to break into her home on New Year's Eve.

McKinley, who had been widowed less than a week before, placed a couch in front of one door and went to the bedroom and put a bottle in her baby's mouth before calling 911, she said on HLN's "Dr. Drew" on Wednesday.

A 911 operator calmly spoke with McKinley, who asked if it was permissible to shoot an intruder, officials said.

"I've got two guns in my hand. Is it OK to shoot him if he comes in this door?" asked McKinley, 18.

"Well, you have to do whatever you can do to protect yourself," dispatcher Diane Graham responded. "I can't tell you that you can do that, but you do what you have to do to protect your baby."

In the end, McKinley fired a 12-gauge shotgun and killed Justin Shane Martin after he entered her home, according to a Blanchard Police Department affidavit filed in court Wednesday. Martin was armed with a knife, authorities said.

"You have to make a choice, you or him. I chose my son over him," McKinley said to CNN Oklahoma City affiliate KWTV.
But wait, there's more: a judge just freed the accomplice of the slain intruder on bail.  See below.
Source:
Man free on bail, days after Oklahoma woman kills alleged intruder's accomplice (CNN)