Doug Short has a must-read post up at Business Insider breaking down the differences between the two most widely-followed leading indicators for the economy – the ECRI  and the Conference Board's WLI.
Based on Doug's chart work, it turns out that both of these leading indicators have accurately predicted all recessions and recoveries over the last 50 some-odd years.  But they tend to predict slowdowns months and months in advance while they turn upward almost concurrently with economic turnarounds to the upside.
And now, as if we weren't all confounded enough, ECRI's leading index has turned sharply south while the Conference Board's reading is predicting an expansion into the spring.  Quelle divergence!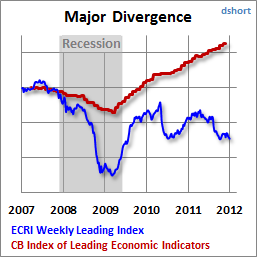 With virtually zero consensus about the direction of the economy next year, the scope of commentary you come across each day has never been more confusing – recession feels like a coin toss at this point.  Do not miss Doug's post this weekend, this is the heart of the matter.
Source:
The Great Leading Indicator Smackdown (Business Insider)