Mr. Madison, what you have just said is one of the most insanely idiotic things I have ever heard. At no point in your rambling, incoherent response were you even close to anything that could be considered a rational thought. Everyone in this room is now dumber for having listened to it. I award you no points, and may God have mercy on your soul.
– Principal, Billy Madison
Wall Street Chief Strategists are smarter than you are.  They went to fancier schools and have more access to research, information and data.  They're also probably better looking than you, too.  But don't feel bad – as a whole, they're of little more practical utility than that octopus in Spain who picks soccer match winners.  I'm not sure if the chief strategist position is classified under "marketing" in the human resources departments of the large banks but it wouldn't be very incongruous with reality if it were.
Were they wrong about 2011?  Sure they were.  Too bullish?  What what'd you expect – their job is to suck up investable assets!
Wall Street's "Chief Market Strategists" – were wrong on their forecasts for 2011, but not alarmingly so.  I pulled the below hilarious quotes from a December 2010 issue of Barron's below (my responses in red)…
Collectively, the 10 strategists and investment managers surveyed by Barron's see the S&P 500 finishing next year near 1373, roughly 10% higher than Friday's close at 1244. (Wrong!)
A majority sees 2011 as the year when a sustainable economic recovery takes root, winning over skeptics and persuading both companies and consumers to relax their stranglehold on squirreled-away cash.  (Wrong!)
Against this backdrop, nine of the 10 strategists we polled are penciling in stock-market gains ranging from 7% to 17% for next year.  (Almost!)
Nearly all the strategists expect stocks to outperform bonds, especially Treasuries.  (Oy vey!)
"We've just started a secular bear market in bonds" – Henry McVey, Morgan Stanley.  (Yeah, maybe a year too early so far.  Wrong!)
Only Doug Cliggott of Credit Suisse was appropriately restrained in his outlook for 2011 a year ago.  The game of forecasting a year-end S&P target 12 months ahead of time is obviously ridiculous, I certainly don't think it's something I could do myself, but we'll give Cliggott credit for essentially nailing the flat close.
As for some of the others, I award you no points…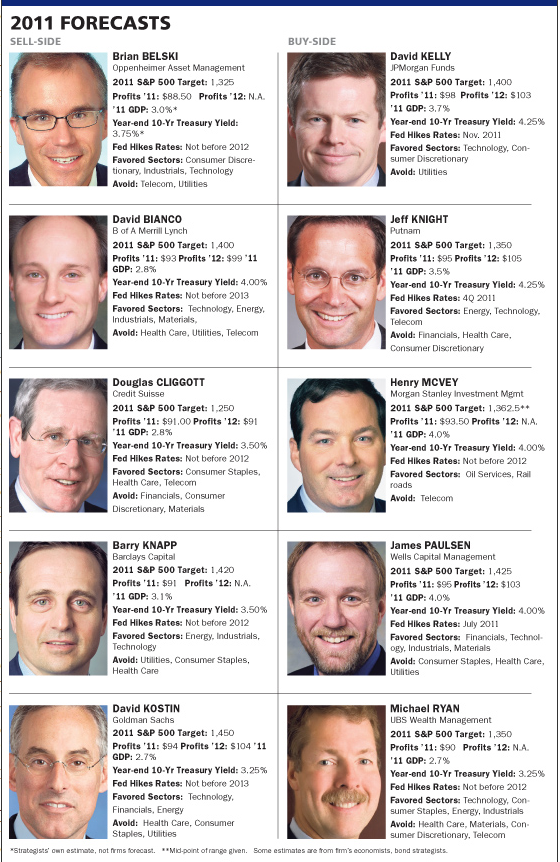 Source:
Read Also:
Barry's piece at the Washington Post on The Folly of Forecasting is great too, read it here.