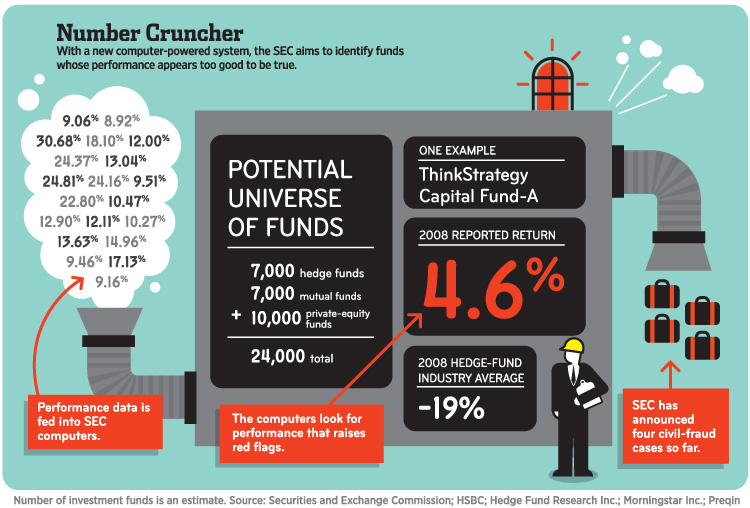 The SEC has a computer system that allows them to sniff out potential frauds by track record – hedge funds that are either too good or too consistent pop up and this merits a deeper look into how these top performers are really hitting their numbers.
This is sure to be a controversial idea in the investment management industry but no one will have the guts to speak up about it, at least not yet.  And besides, it seems to be working…
From the WSJ:
In 2009, the SEC began developing a computer-powered system that now analyzes monthly returns from thousands of hedge funds. Officials won't say exactly how it works or how much it cost to build, but the agency has announced four civil-fraud lawsuits filed as a result of what it calls the "aberrational performance initiative."

One hedge fund sued by the SEC reported annual returns of more than 25% by allegedly overvaluing its assets, including Nigerian warrants. A hedge fund of funds achieved its seemingly great returns by allegedly overriding internal controls on vetting outside funds, causing it to sink investor money into frauds.

Encouraged by the results so far, SEC officials are widening the computer-powered scrutiny to mutual funds and private-equity funds. That means data on more than 20,000 funds are being fed into the SEC's computers or soon will be.
Source:
SEC Ups Its Game to Identify Rogue Firms (WSJ)