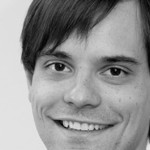 Ten years ago, a young, swaggering stock broker was plied with alcohol by a New York Observer reporter at the peak of the market madness and the apex of his confidence.  The resulting "article" or ambush captivated the media and Wall Street.  It was a brash and unflinchingly honest look at how the typical Wall Streeter felt at the time: equal parts invincible and bewildered at how money was being thrown around like it just didn't matter.
That cocksure broker who dared to be himself was named Lee Munson.  He told the reporter that it felt like the peak of the Roman Empire and that soon enough the city would burn.  A few months later the Towers were struck, the economy came crashing down and Lee found himself in exile because of the interview he unwittingly gave. The article is here in case you weren't around at the time.
Over the last decade, he has left New York, re-learned what it meant to be a financial professional, built a wealth management firm from the ground up and plotted his return to the spotlight.  And with his new book from Wiley, called Rigged Money
, Lee is back to telling the truth again – and this time his mission is to save investors from the Wall Street machine he ran away from a decade ago.
Lee and I met for the first time this month over a plate of pasta here in NYC (he lives and works out west now).  It turns out, he and I are very similar:  we're about the same age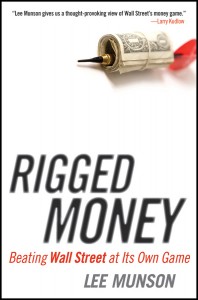 and both of us were hotshot brokers (since reformed) back when retail brokerage was still a real business.  Both of us are renegades who have run out of all patience for playing politics and pretending that the structure of the industry isn't completely fucked.  Both of us have decided to use what voice and recognition we have to help people and blow the lid off the aspects of wealth management we'd like to see disappear.
I asked Lee a few questions over the weekend about his career and the new book, please enjoy and then head over to Amazon to buy your copy today.
***
JB: How have things changed on Wall Street since your now infamous New York City is Rome and it's all gonna burn down" screed?
LM: But Wall Street did burn down. It started when brokers began charging fees, not commissions. Rapid trading added fuel to the fire, encouraging institutional and retail investors to sell more stock more quickly. Add in a growing fascination with exotic asset classes such as leveraged short ETFs, emerging markets and commodities and it became a five alarm fire.
JB: It's just been estimated that the financial services sector is going to shed as many as 150,000 jobs in the coming year, where will all these people find employment and is this finally a realization that there are too many people chasing the same money on Wall Street?
LM: There were too many people on Wall Street when you and I were 10 years old. Remember that back in the 1980s and even most of the 1990s working on Wall Street was for the feeble minded or criminals. I was embarrassed to be in the business as my peers joined dot.com firms and became millionaires.
Those 150,000 people should think about making something of their lives while they are still young. Build something, innovate, and sell crap to the Chinese.
JB: One of the themes of your book is that Wall Street has supplied the answers to questions that no one ever asked as a means of misdirection, what's the most blatant example of this you could give us?
LM: Wall Street wants you to go into your Schwab Broker and ask, "What are you doing to diversify my portfolio?" Your broker will then pull out a handy pie chart showing how he's putting 10% of money into emerging markets and another 25% into some bond ETF that started trading last week.
But diversification is not return, it's a vehicle to add more and more products with higher and higher fees that go back into the broker's pocket. Focus on risk. Keep risk in your portfolio constant and forget about the lie of the pie.
JB: Let's say I'm an investor, what's the number one sign I should look for to tell me whether or not the investment professional I'm working with is wrong or right for me? 
LM: Do you want an advisor that just farms things out to any wholesaler that provides steak dinners? Do you want an advisor that is old and outdated? What about a 'nice guy' that goes to your church? Screw all of this. The person in front of you needs to have some exposure to the actual process of running money. People who actually touch the stuff are not always the nicest guys in the room, you and me being a case in point.
The bottom line: you have to find an advisor that sees you as the prime fit, not the other way around. Don't hire someone that isn't a specialist in what you are looking for. Both parties need to have a similar view or philosophy or the relationship will not work. You need an advisor that will succeed when you succeed, not when he suckers you into buying an expensive product.
***
Thanks, Lee!  Check out Rigged Money right here:
Rigged Money: Beating Wall Street at Its Own Game