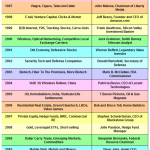 Another year in the books and I've updated my Investing Fads and Themes by Year guide accordingly.  It begins with 1996 because that was my first summer working on The Street and my earliest exposure to the market.
So what was 2011 about?
Well, it was basically about Risk-On Risk-Off.  Stocks were the most correlated they'd been in 80 years and by the fall it was shown that 84% of S&P 500 stocks were moving in the same direction as the S&P 500 each day.
This meant that investors could skip out on doing intense stock-specific research and just focus on getting the market right.  In order to get the market right, one needed to pay closer attention to the euro versus the dollar more than anything else.  When the euro was in favor, so were stocks and risk assets, when the dollar was in favor, stocks and commodities were schmeissed almost universally.
This seesaw arrangement meant paying attention to the headlines coming out of Europe – and none were more important than those mentioning Angela Merkel.  As the chancellor of the Euro's strongest economy (and shotcaller), Merkel has held the key to whether or not Europe's monetary union and common currenc y would survive.  We still don't know as of this posting.
Dividend stocks were all the rage this year as interest rates remained low and bond yields remained paltry.  This was easy to foresee and many of us positioned in the highest-yielding and most consistently paying sectors.  The big winners this year were those who overweighted Healthcare, Telecommunications, Consumer Staples and Utilities.
Social media IPOs were also a major trend this year – on the bull side and the bear side.  I correctly predicted this at the end of 2010 and I was not disappointed with the hype and headlines of these deals.  LinkedIn, Groupon, Pandora and Zynga were the most talked about deals of 2011.  Spectacular opening valuations gave way to gravity for many of them but the incessant interest in them has not yet abated.  Besides, Facebook and Twitter are still waiting in the wings.
Anyway, here is my updated guide to the Investing Fads and Themes by Year, 1996 – 2010.  Enjoy!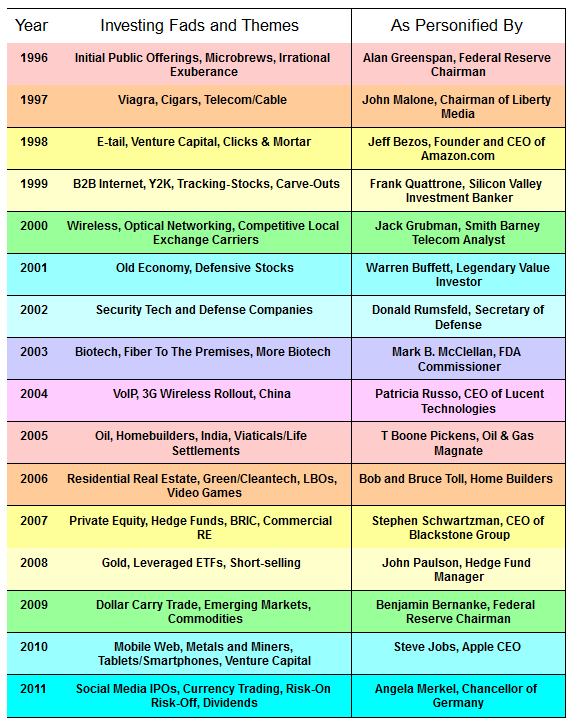 Tags: $LNKD $GRPN $ZNGA $P