The suckitude of this collision simply cannot even be measured.
On the one hand, things are finally looking up for the United States economy.  Economic indicators from the industrial to the personal all have been showing definitive improvement in recent weeks after an early fall slip.  The manifestation of this can be seen nowhere more plainly than in the chart of home goods and consumer spending bellwether Home Depot ($HD).
Trade With Pete notes that Home Depot has been outperforming the S&P since August and that its chart has recently flashed a Golden Cross (50-day moving average crossing above the 200-day indicating very positive supply-demand for the stock):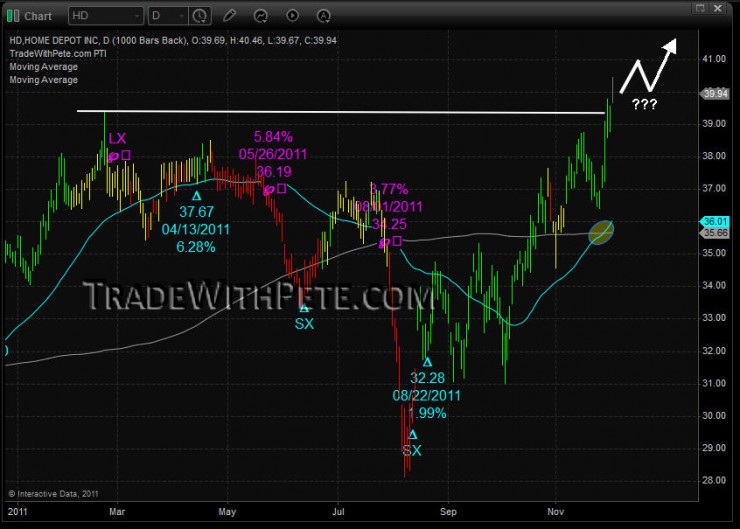 But alas, we don't get to experience the heaven that would be a real live economic recovery, complete with housing and jobs turnarounds, without some molestation from the continuing drama in Europe.
I've just been informed that this coming week is Hell Week in Europe, with a confluence of three major events the likes of which could hurl all sorts of debris on US market soil.
Here's my pal Joe Wesienthal at The Business Insider on the three milestones to watch for this "Week from Hell":
What's happening?

Basically it all leads up to a big December 9 (Friday) summit, which might result in some kind of new economic/stability framework for Europe, wherein the players agree to cede some budget sovereignty with the assumption that if they do this, the ECB will provide a funding backstop for Europe.

However, before Friday there are other big days, including Monday, when Merkel and Sarkozy are expected to produce some kind of stability framework to prepare for Friday's summit.

Then on Thursday, the ECB will make its second interest rate decision since Mario Draghi took over. Right now, a cut in rates (reversing Trichet's disastrous hikes) is expected. The big question is whether or not Draghi will signal some future ECB role in ending the crisis in exchange for action on the fiscal front.
So there you have our entire predicament in a nutshell; improvement in US metrics at long last coupled with the continuing threat of an entire monetary union unraveling next door.
Will it be Heaven or Hell for US investors?  Let's make through the coming week and discuss it then.
Sources:
The Home Depot: Golden Cross (Trade With Pete)
Why This Is Going To Be The Week From Hell In Europe (Business Insider)