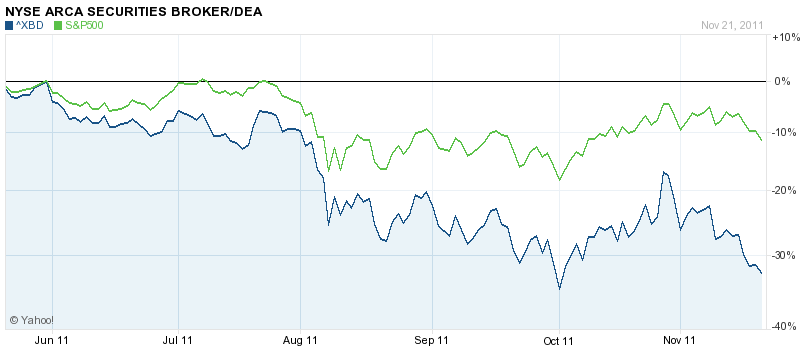 Above is a look at the broker-dearler index of stocks versus the S&P 500.  It's like an earthquake inside of a hurricane covered in battery acid.
And if you think the stocks look bad, you should what this industry – worldwide – looks like from the inside.  According to Bloomberg, we're at around 200,000 layoffs for global financial services firms this year, eclipsing the previous high of 174,000 back in 2009.
And the pain is everywhere, now that the salutary effects of zero percent interest rates have run their course.
Bankers are being laid off.
Brokers are being laid off.
Traders are being laid off.
Support staff are being laid off.
Product people are being laid off.
Wealth management people are being laid off.
Analysts are being laid off.
And the thing is, once you get laid off, it's harder than ever to find a firm that wants you.  Or needs you.  Because the pie is shrinking and those still with a grip on their slice are certainly not willing to part with even a crumb of it – after all, who knows how small this thing is going to get?
And here's the twist, in some regards, the living will envy the dead once this bout of layoffs goes through.  Because the business will never be the same as it was.
Risk-taking is moderating, compliance and regulatory oversight are cascading down and as for compensation – well, let's just say the Hot Shot Era will not soon be returning in this new reality.
Bonuses are now on a perpetually lower course as it becomes apparent to shareholders, managers and boards of directors that "the talent" has been overpaid for more than a decade.  Especially when you consider the output adjusted for risk.  It's farcical, especially compared with the compensation scenarios for the rest of the human race.  Wall Street, insurance, banking and real estate had been hiring and paying like crazy – to the point where employee compensation was said to be half of all industry revenues at its peak.
Game over.  Hope it was fun.