I've begun writing, composing and doing some basic arrangements for Occupy Wall Street! The Musical.  Below is an overview of the show to satiate your appetite while we develop the finished product and meet with producers. – JB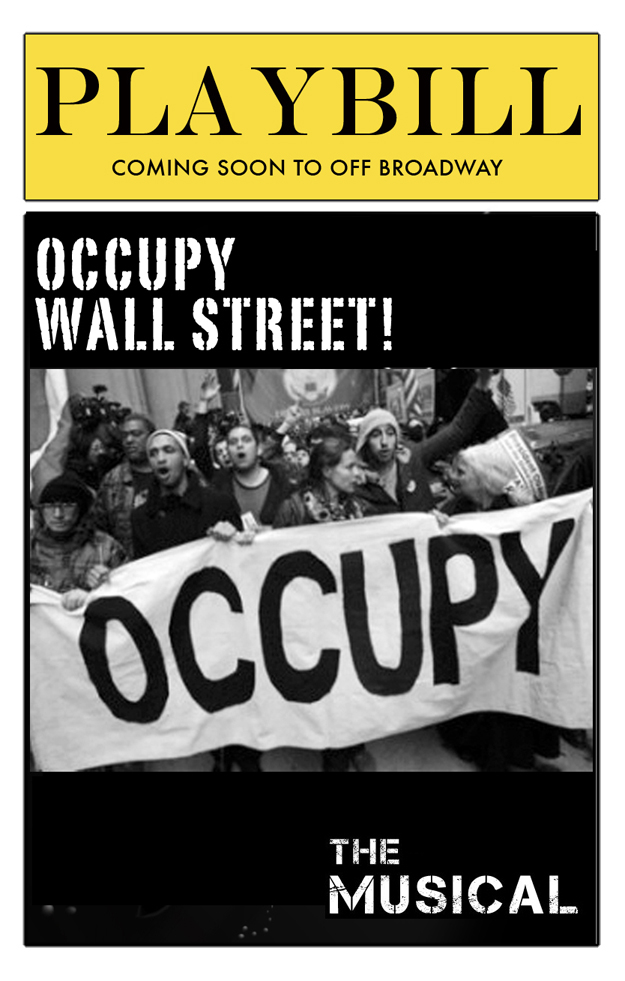 ***
Cast:
Jenny – A young woman working on Wall Street for Goldman Sachs but unsure of what she truly wants for her life.
David – An idealistic young Occupier, bearded and seen wearing hoodie and knapsack.
Occupiers – David's mates and the heart of the movement, foot soldiers and choral members of the show
Lloyd Blankfein – Jenny's boss at Goldman, the show's antagonist and the nemesis of the Occupy Wall Street protesters.
Chief of Police – A whiteshirted veteran officer of the law just days from retirement, forced to crackdown on the kids at Zuccotti even though his son David is one of them.
Goldman Sachs Office Workers – Suited and slick, Jenny never feels quite like she belongs when in their midst.
Drum Circle – As themselves.
Mayor Bloomberg – A megalomaniacal yet lovable autocrat who is torn between his liberal leanings and his desire to restore order to the city he paid for.
Libretto:
Act I
Occupy Overture [played by orchestra, credit crisis newspaper headlines projected on closed curtain]
Takin' it to the Streets [chorus and full cast, tents erected center stage, sleeping bags rolled out]
Signs [sung by Occupiers, house lights turned off and blacklight turned on for phosphorescent-painted sign dance]
Jenny's Theme [sung by Jenny, chorus.  Jenny, dressed in business suit, is traipsing over sleeping protesters on the way home from her job at Goldman Sachs]
A Hottie in Zuccotti [sung by David and the Occupiers.  Jenny exits stage left, David sings in ecstasy at the sight of her, conspires with fellow Occupiers to somehow draw her back to the park, Occupiers huddle up as scenery is changed]
It's Goldman's World (We're All Just Working In It) [full cast, Occupiers at stage right, Goldman office workers left and center.  Lead parts sung by Jenny and Lloyd Blankfein, center stage.]
Jenny's Theme/A Hottie in Zuccotti Medley [sung by Jenny, leaning out the window watching David and the Occupiers erect the People's Library.  David responds to jenny with his song, Occupiers and chorus in purple sashes provide backing vocals and dance atop benches in the park.  Jenny and David lock eyes, David fixes his beard, applies Purell to his filthy hands.]
I Want to Occupy You, Baby [stage cleared save for Jenny and David, who slowly and suggestively circle each other before breaking into seductive dance.  Jenny and David duck behind a dumpster on the park's edge and we see their garments tossed into the air as the song climaxes.  Lloyd is seen peering at the couple from Goldman's window, crumpling up a paper in disgust.]
Curtain, Intermission. 
Audience treated to complimentary scoop of Occupie a la Mode ice cream from Ben & Jerry's

Act II
Occupy Overture [full orchestra, chorus.]
Drumming up a Protest [Curtain opens on massive drum circle in Zuccotti Park.  Drummers march down theater aisles to join drum circle on stage, audience members are told to look beneath their seats for maracas and tambourines so they can join in the rhythmic number.  David and Jenny, now in mud-spattered three-quarter length business skirt and camouflage blazer, dance center stage.]
The Kid or the Squid? [drummers exit stage, spotlight on Jenny for solo.  She is forced to choose between the kid (David) and working for the Squid.  Business men and women during the rush hour commute bump and bustle by as she laments her confusion.]
Showdown [Lloyd, disguised as a protester, confronts David about him steering Jenny away from a promising career on Wall Street.  David and Lloyd circle each other and size each other up as the drum circle surrounds them.  They hurl barbs at each other "Capitalist Swine" and "Lazy Loser!"  David chases Lloyd from the park.]
What's One More Pink Slip?  [Lloyd has Goldman fire Jenny in retaliation for her dalliance with the protesters.  Jenny is handed a pink slip at right stage and is seen packing her belongings, this as the Goldman office worker chorus hands out pink slips to audience members in front two rows.  Jenny slumps to the ground as the curtain drops for scenery change]
Bloomberg's Decree [Mayor Michael Bloomberg delivers his decree that Zuccotti be emptied from a balcony two stories above the park.  His henchmen – winged NYPD officers – are dispatched from his balcony with batons and shields.  Orchestra plays overture as protesters and police dance-battle in Zuccotti Park.  Protesters are chased away, NYPD officers' triumphant kickline ensues as Bloomberg looks on approvingly from balcony.  David and Jenny are separated in the melee.]
We're Not Gonna Take It/Signs Medley [Protesters meet up at stage center one by one, clothes torn and signs damaged.  They march in place as more and more Occupiers join them.  Signs held aloft as the drummers convene at the wings of the stage, drums and orchestra swells and the pace of the marching speeds up.  "To Lloyd's Lair!" David Announces.]
The Battle of 200 West Street [full orchestra and chorus, protesters clash with Goldman office workers as David and Lloyd face off against each other at center stage (we're in talks with the insurance company to see if we can have some choreographed wirework for the fight scene, unclear at this time).  They wrestle and fall into the arms of their supporters only to be tossed back into each other over and over again.  Finally, David smothers Lloyd with a Too Big To Fail sign, stands with his foot on Lloyd's head.  Jenny rushes from the crowd to embrace him.]
Takin' it to the Streets/A Hottie in Zuccotti/Drumming Up a Protest Medley [Full cast, chorus, orchestra and drum circle.  Audience encouraged to join in with instruments and stomp on the floor.  Drummers parade up the aisles as cast members take their bows.  Even Lloyd Blankfein and Mayor Bloomberg begin to dance and drum, crowd cheers their conversion enthusiastically.  Jenny and David, holding hands, emerge front and center, take deep bow.  Curtains down.]
***
Anyway, it's a work in progress, not sure if I'll be able to get the rights to Signs or Takin' it to the Streets or We're Not Gonna Take It but I'll try.
If you guys have any ideas for casting or whatever, let me know in the comments section below.  Auditions will be held at Ulysses on Stone Street.  Pre-production begins in January for a spring debut Off Broadway.