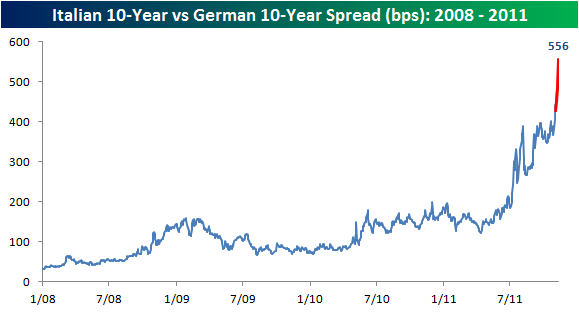 chart via Bespoke
Dow futures are off 200 points this morning as risk-off is the name of the game once again.  This time the focus is back on Italy as credit spreads have blown out and the Italian ten-year bond is printing a yield above the all-important 7% threshold.
As I said over the summer, the risk here is contagion; it's not that Italy itself is so important (the economy doesn't ever grow anyway), it's that Italian debt is widely held everywhere and could trigger massive shockwaves through the financial and banking system worldwide.  According to the Bank of International Settlements, French and German banks have €689 billion worth of exposure to Italian government and corporate debt, and another €801 billion of exposure to Spain, Ireland, Greece and Portugal.
So what happens now?  Let's get some perspective from around the blogosphere…
Robert Sinn puts the situation in fairly stark terms over at Stock Sage this morning:
The situation has become a binary one: Either the Germans give in and allow the ECB to provide guarantees and/or monetize some of the PIIGS debt or things could get very ugly very fast. The market is forcing the eurozone's hands via Italy's gargantuan $2 trillion+ sovereign debt market – this is quite clearly a can that is too heavy to be kicked. Buckle up and get ready for another rumor/news driven trading session.
Here's Marc Chandler at Credit Writedowns talking about three potential courses of action and how the markets would likely respond:
So what is the next step? In our view the most likely scenario, in the coming weeks, is that the current coalition rally around another PM candidate that it feels can gain domestic and international confidence. To be deemed credible, though, this new government would need to address the politically sensitive pension and labor system. This would be supportive for risk appetite and the euro in particular. The second most likely scenario is one where a "technocratic" government is formed as was done in the 1990s and more importantly is likely more effective at dealing with governance and the economic reform issues. Because of its expediency this is likely the most market friendly outcome. The last outcome would involve early elections. This, however, would be the worst outcome for sentiment as it would increase uncertainty and of course stall progress on economic reform.
Many commentators have noted that only a bond-buying program from the ECB (which they've been reluctant to do as it is not in their mandate) will truly have an effect here.  But the Wall Street Journal's Simon Nixon throws cold water on that thesis in his Heard on the Street column this morning.  He notes that the ECB could only buy Italian bonds in the secondary market which would not necessarily lower the 7%+ rates at primary auction.  Nixon says that the more likely savior might be the IMF, although there are some hurdles there as well:
The only really viable source of liquidity, at least in the short-term, is the International Monetary Fund. A massive expansion of the IMF's resources was discussed at the G20 summit in Cannes, but no agreement was reached. International lenders might understandably balk at putting their taxpayers money at risk in a country that has barely grown for a decade, is trapped in an uncompetitive exchange rate, suffers from uncompetitive interest rates relative to its major trading partner, is being forced to embark on a major austerity drive with no corresponding euro zone growth strategy to compensate, and remains at the mercy of a euro zone governance framework that at every turn has proved entirely inadequate to the magnitude of the crisis it faces.
And of course, the most immediate question revolves around Silvio Berlusconi and whether or not he will ever truly get the fuck out of there so the solution can be found.  Over at 24/7 Wall Street, Doug McIntyre gives us a quick lesson on the wackiness of Italian Politics and a reminder that it is not just about leadership in Europe, but philosophy as well:
Italy's government is inherently unstable. 'The nation has elected prime ministers 38 times since World War II. Several men have served more than once. Silvio Berlusconi, about to depart, has held the job three times since 1994. Experts say he will not hold the office again, but history suggests he could be back. No wonder global capital markets are wary about the future of Italy's finances and its government.

Investors are appropriately concerned that those in power in the eurozone's most financially besieged countries come and go. But also of concern are that the basic philosophies of how these countries should be run come and go as well.
Stay tuned, more to come as the garlic sautées…