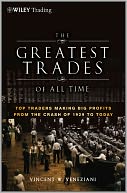 Do you guys know Vince Veneziani?
He's a writer and a serious player in the trading media and conference world.  He's also a friend of mine and ocassional drinking buddy who will make you laugh so hard you'll have tears in your eyes.
Anyway, Vince just launched his first book with Wiley this month, it's called The Greatest Trades of All Time: Top Traders Making Big Profits from the Crash of 1929 to Today
The book is loaded with inside details of monumental scores made by George Soros, Paul Tudor Jones, John Templeton, and John Paulson.  Vince was kind enough to bring me into the mix for a section on the Jesse Livermore obsession that most real traders share.  Our dialog on the topic below followed by a link to where you can buy a copy.
Enjoy!
***
As mentioned throughout this chapter, Jesse Livermore was an incredibly influential trader and continues to influence traders. In an interview with my friend, Joshua Brown of Fusion Analytics (and author of the web site The Reformed Broker at www.thereformedbroker.com), we discussed how Livermore influences his investment styles and disciplines:
Vince: Why do you think Jesse Livermore is still so famous among the trading community even 70 years after his death?
Joshua: The quasi-autobiography of Livermore (Reminiscences of a Stock Operator) set forth a number of unwritten rules of trading that are as practicable and essential now as they were in the early 20th century. His discussions about tipsters, respecting trends, recognizing market characteristics, and position sizing are still the gospel. Every serious trader can recite whole passages of the book on demand.
Vince: Do you think that his ability to navigate not one but two stock market crashes was unprecedented?
Joshua: I'm sure there were traders who had done it, but probably not with the same panache. And how many of them had biographers?
Vince: Livermore won big in those two crashes, but several times over he nearly lost (or did lose) it all. What do you think were some of his flaws? Do you think he lacked self-discipline?
Joshua: Livermore happened to have excelled at a skill that ultimately made him rich but kept him constantly on edge. After a lifetime of panic and anxiety, he ultimately took his own life in 1940, the same year that his book came out. I think there is a cautionary tale in Jesse's life about handling the ups and downs of the market on an emotional basis, not just a financial one.
Vince: What can traders today learn by studying Jesse Livermore's techniques and views on the markets?
Joshua: Traders can take a very valuable lesson away just by considering how influential the book is decades after its first publication. That lesson is that there are rules to this game; (there are) certain disciplines that have always been true and should not be violated.
Vince:  When a trader breaks his core ideology, it's the beginning of the end. Traders need to obey their disciplines to remain good whether they win or lose individual trades.
***
Thanks again for including me, Vince.  Click the link below to scoop this bad boy up on Amazon:
The Greatest Trades of All Time: Top Traders Making Big Profits from the Crash of 1929 to Today (Wiley Trading)