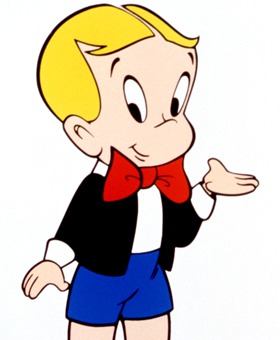 If there is a hell, then surely the elevator taking us down there will be playing that f***ing song If I Had a Million Dollars on a continuous loop as a sort of amuse-bouche to prepare us for the eternal torture to come.  But I bring up that song if only so I could remind you of the refrain that ends the chorus, "If I had a million do-o-o-o-olllllarrrsss…I'd be rich."
No you wouldn't, chief.
If you had a million dollars you be paying 500,000 of them to taxes, safely saving another 100,000 of 'em at a zero percent rate of return to give yourself an extra two years of retirement walking around cash and then the rest would be spent at Cheesecake Factory and on trips to Disney World until you were pushed back into the workforce as either a Wal-Mart greeter or some kind of cockamamie "consultant".  So put the guitar down and shush.
Anyway, the Washington Post has an interesting piece up called the "Five Myths About Millionaires" and I thought the second one was really interesting – that millionaires consider themselves "rich" or "wealthy".  They do not:
2. Millionaires think they're rich.

"Rich," like "poor," is a relative term. A family living on the American median income of $50,000 a year might think that one living on $500,000 is rich. But that second family, which probably knows families far better off than they are, thinks that you need $5 million a year to be truly rich, and so on.

On Thursday, 44 percent of people voting in an online survey as part of the GOP debate coverage said that a $1 million annual income made a person "rich." In a 2008 survey of affluent Chicago households, only 22 percent thought a nest egg of $1 million was rich. In March, four out of 10 millionaires surveyed by Fidelity Investments said they do not feel rich. That same month, a majority of investment advisers surveyed in a Scottrade poll said that $1 million isn't enough for retirement.

Though the average American family is rich beyond the wildest dreams of the average family in Bangladesh, where per capita income recently rose above $700, it's not much compared with those who summer on beachfront properties in the Hamptons. When John D. Rockefeller learned in 1913 that the late J.P. Morgan had left an estate of $60 million, including a fabulous art collection, he reportedly said: "And to think — he wasn't even rich."
I deal with high net worth people from all different walks of life and geographic regions every day for a living.  My job is to make sure they remain high net worth.  And while most of them would agree that they are successful, very few consider themselves to be rich – and they would NEVER use the term millionaire or multi-millionaire as a self-descriptor.
In the cartoons we grew up with, the term "millionaire" to describe someone meant a Texas oil baron shooting guns into the sky or a kid with a dollar sign-spotted dog.  These days the millionaires are more freaked out than their predecessor equivalents from earlier generations.  There's nothing glamorous about watching one's asset values and purchasing power be destroyed on a monthly basis for years on end.
Look, being a millionaire ain't the worst thing in the world, but it also just ain't what it used to be.
Source:
Five Myths About Millionaires (WaPo)