We're a week or so away from the end of Q3 2011 and Wall Street's analysts have spent the last few weeks slashing earnings estimates for almost all S&P 500 sectors.
The question is whether or not the year-over-year growth estimates are now chilled out enough to account for the undeniable slowdown in the pace of business activity on a sequential basis.
Here's a visual of the y-o-y Q3 growth rate assumptions analysts are baking in currently from my friends at the Notorious B.I.G….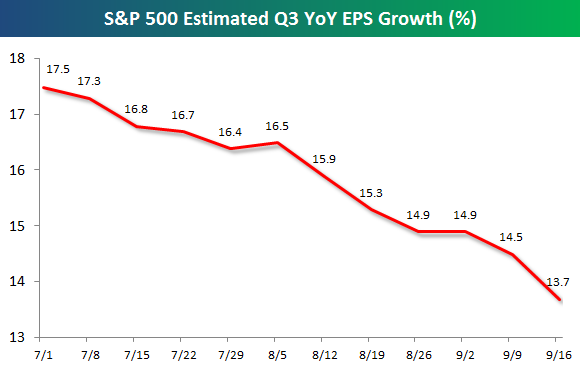 Justin and Paul also show us which sectors have seen the most and least cuts to the growth forecast, head over below…
Source:
Estimated S&P 500 Q3 Earnings Growth Drifts Lower (Bespoke Investment Group)
Tags: $SPY