It's no secret by now that I've been favoring dividend-payers over growth names in most of the portfolios I'm managing.  All things being equal in a quasi-recessionary atmosphere, I'll take the low multiple-current income option every time.
Fortunately, there are a lot of different ways to get this kind of exposure and there's certainly no shortage of buyable, non-bank candidates.  My friends at the Notorious B.I.G. have a great visual on this:
Looking at individual stocks, the number of companies that have a higher dividend yield than the 10-year is almost mind-boggling.  As of today, 233 (46%) of the stocks in the index have a higher yield than the 10-year, and more than sixty pay out a yield of more than twice the 10-year.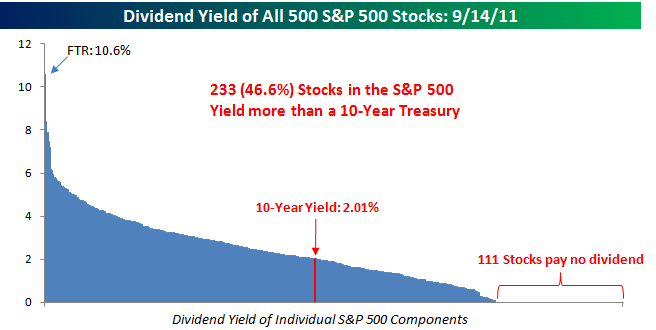 There are a lot of things for you to be distracted with right now market-wise, but this is one of the things you should be paying attention to.
Source:
A Battle of the Yields: Stocks vs Bonds (Bespoke Investment Group)