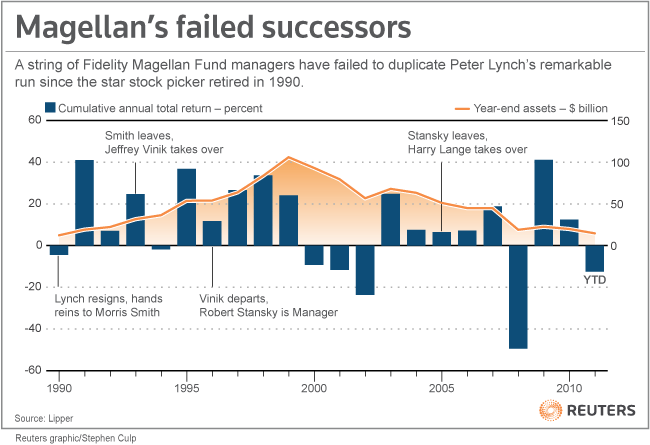 This week we heard that Harry Lange was booted from running Fidelity's former flagship Magellan fund.  Lang took over with the fund managing $50 billion in assets, his predessor had seen assets drop from $100 billion from the year 200 until his own ouster.
From Morningstar:
Lange is the latest in a string of Magellan skippers who failed to measure up against the fund's most famous manager, Peter Lynch, whose storied reign ended in 1991. Lange's immediate predecessor, Robert Stansky, posted middling results employing a bland approach that closely tracked the S&P 500 Index. Lange ditched Stansky's index-hugging ways, but performance deteriorated badly. From his Oct. 31, 2005, start through Sept. 9, 2011, the fund lagged more than 90% of its large-growth rivals with its mere break-even returns.
There are a lot of lessons to be learned, the first is that stepping into someone like Peter Lynch's shoes is basically a no-win situation, even after a decade or two have transpired.  Lynch is Hercules and Michael Jordan and the Beatles all rolled in one when it comes to stock-picking and the mutual fund format, no one even touches him.
The good news for the new guy, Jeff Feingold, is that at $17 billion, the fund is small enough that he doesn't have to confine himself to the same ten megacaps – Feingold can go out there now and really compete.
Sources: