Remember all that talk about "Ring-Fencing" as it pertained to stopping contagion from peripheral European debt woes?
Those of us who've been around for a minute or two know that the whole idea of ring-fencing, while adorable, is the macro-economic equivalent of Santa Claus or the Tooth Fairy.  We're all very interconnected risk-wise and intra-Europe especially so.  Ring-fencing works in situations where a state wants to protect a local electrical utility from exposure to an imploding related subsidiary or parent company, but not when financial confidence is on the line – when banks are involved, the operative term becomes "bailout", not "ring-fencing"…
And so it comes as no surprise to hear the laments of French bankers overnight about how US money market funds are pulling back on the routine short-term funding that normally goes on night and day with nary a mention.
Nelson Schwartz and Graham Bowley have some details in the New York Times this morning…
Even as European investors race to abandon shares in French banks, on this side of the Atlantic, banks, brokerages and other American financial institutions are quietly reducing their exposure too, turning down requests for fresh loans from the euro currency region and seeking alternative investments.

In August, American money funds and other suppliers of short-term credit chose not to refinance roughly $50 billion of debt issued by European banks, a drop of 14 percent, according to JPMorgan research. Traders are so worried that they are forcing French banks like Société Générale and BNP Paribas to pay more to borrow dollars — and they often can do so only for a week or less.

"Money market managers in the U.S. continue to prune risk," said Alex Roever, who tracks short-term credit markets for JPMorgan Chase. "The issue is headline risk; fund managers may be comfortable with the banks' credit, but many are hearing from shareholders worried by what they have read about French banks."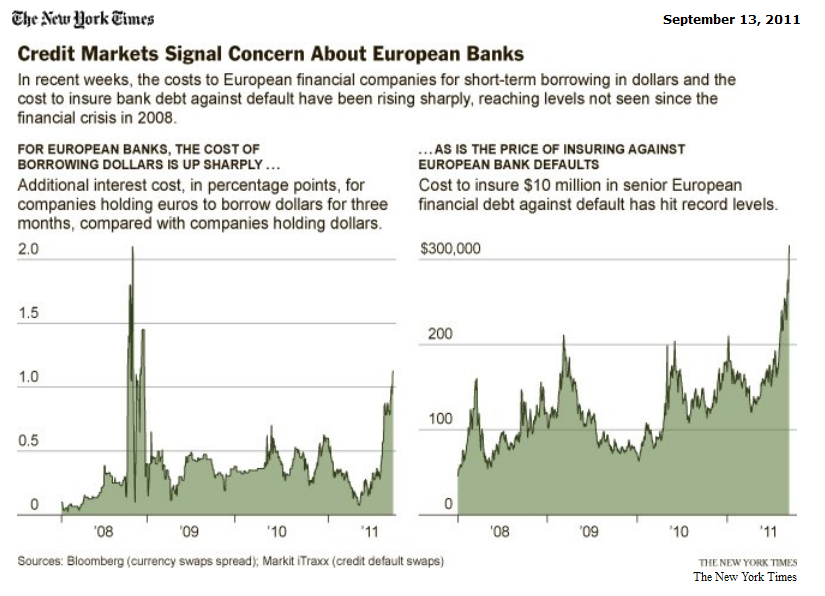 This is not Lehman circa September 2008 when a money market actually broke the buck and everything froze.  This is more like people preparing themselves just in case by thinking twice about what they're funding – even in the most routine, run-of-the-mill transactions.
French and German banks have tens of billions in exposure to Greek and Italian banks and sovereign debt – band now their short-term financing options are getting a tad tighter.  Keep your eyes peeled and know what's in your money market fund.  Because heaven forbid this gets real, there is no such thing as ring-fencing.
Source:
Wary Investors Start to Shun European Banks (NYT)