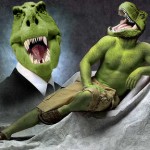 The following post is written by Dinosaur Trader. He is a stock trader. He writes about the daytrading lifestyle, parenthood, marriagehood and the often combustible mixture of the three.
Two days ago, at 12:30 am a gigantic beech tree crashed through my house trapping my wife and two daughters against their beds. Amazingly, though only a couple of feet away, I was unharmed. The tree had knocked out the power and so I couldn't see anything but I heard their screams and I knew they were hurt.
A few weeks back, I had a guy come to look at the tree and he told me to cut it down. "It's full of ants," he said. But we got busy getting the house rented for August and so we put it off. I figured I'd just do it in the fall before the winter when the heavy snow could pull it down. The immediate guilt caused by this decision was complete.
I stumbled through the room, or what was left of it, even trying without success to lift the tree off the bed. The hole in the roof was letting the rain in. Rainwater on my bed, on my bedroom floor. I had to get help. The kids were crying but my wife was quiet and unresponsive. The phone was knocked out and I had no idea where the cell was. I had a hard time even getting out the front door. There were no neighbors within a quarter mile. The summer people all left. I decided to head out to the main road and try to flag down a car.
At least, this is what was running through my head last night as I lay awake in bed not able to fall back asleep.
What do YOU do when your thoughts spin out of control in the middle of the night?
I walked downstairs, switched on the kitchen light and rifled through a stack of business cards. I found the tree guy's card, and put it on the counter with a note for my wife, "Call tomorrow."
I was hungry. I made some toast. There was no way I was going to fall back to sleep so I went upstairs to my office and turned on the computer. Reflexively, I switched on my broker and Esignal and then started to surf around.
I "pointed my browser" at Twitter (quick parenthetical rant: seriously, whoever came up with such an expression. no one in the history of internet "surfing" has ever "pointed their browser" at anything) and noticed that Barry Ritholz had tweeted 4 minutes earlier. "Huh," I thought, "maybe Barry is up too. Maybe he can't sleep."
I clicked on the link in his tweet. It was some bajillion word post on rebalancing the housing market. No pictures, nothing. I scrolled to the end. It was signed, "Governor Elizabeth A. Duke." This confused the fuck out of me.
"Jesus, Barry Ritholz has fucking Governors writing posts to his blog and tweeting them at 1:00am? Dude has power," I thought.
I thought about Joshy sitting across from Barry in Barry's huge office. Gigantic gold-plated desk…animal heads on the wall, etc. Barry is angry that Joshy is closing in on his Twitter follower lead. Barry stands up and calmly tells Joshy that he's pulling the plug on him. He's going to support this upstart Dinosaur Trader now.
"No one knows who he is," Barry would explain to Josh. "He's mysterious. Plus, I love Dinosaurs. He's gonna be a star…"
I quickly fantasized about being on CNBC. Balding, nervous and sexually cowed by Courtney Reagan… no… by Sylvia Wadhwa. I'm terrified of her. Can you imagine what she could do to a man? I'd love to be sexually brutalized by her… I imagine the email I'd shoot off to Joshy now that I'd be in charge. "Hey, get a few posts up on The Mixtape or I'm considering removing the page. Just not getting enough traffic there to support the bandwidth costs." This made me smile.
Someone else in my stream posted a horrifying story about an 11 year old girl who was bullied by an entire network of underground hacker types. She had posted suggestive and taunting videos and now the hackers were getting their revenge on her family. I watched one video where she's crying and her father comes to her side and starts yelling at the entire internet. He's yelling at the anonymous rage that's attacking his daughter and he's got no fucking shot. This depressed me.
Why are we letting our kids go? Don't buy your kid a phone people. Beware popular culture.
I took a peek at gold which was back over $1900. In fact, it was up near the old highs trading between $1915 and $1916. I didn't want to trade, it was 1am for chrissakes, but I couldn't help myself. I figured if this thing traded over $1916 it was definitely going to pop to a new high. So I bought, $1915.70. Seconds later it was trading over $1920. I sold and immediately shut my computer down.
In the next room, my family was sleeping soundly. No tree. No crazy anonymous internet gangs. No gold. I lay down, me and my thoughts.
I worried that I'd wake up to find $GC_F trading over $2000. I mused about how 20 minutes earlier I was poorer somehow but I was actually happier. Now I was laying here worried that I fucked up a trade. I worried about 11 year old kids posting suggestive internet videos. I wondered if any of them were awake, posting videos, getting into trouble while maybe their parents were passed out drunk in the next room.
I worried… I worried…
—————————————————————————————————————————————————–
Discussion Points
How do you get yourself back to sleep in the middle of the night?
Is stock trading dead?
Will everything just work out or does that only happen to James Altucher?
The high in gold was like, $1923. Did I get lucky?
Do you think I wrote this post because Joshy threatened me?
Isn't Nutella fucking awesome?
Do you lie awake at night? If so, follow me on Twitter. Sleep soundly? Great! Follow me on Twitter.