If Congress were a stock, it would be trading at all-time lows, quite possibly below its cash position and at a fraction of its tangible book value.  In 1958, 73% of American voters said that they trusted the government and believed it would do what was right.  That number is now 19%.  So no, it's not your imagination that our elected leaders have been getting worse for decades, they actually have.
The Pew Research Center is out with a pretty staggering measurement of the country's current rage with its own leadership…
Only about one-in-ten Americans (11%) say they are basically content with the federal government…the share of Americans who describe themselves as angry with the federal government has nearly doubled since March, from 14% to 26%.
Here's how that stacks up over the last 15 years: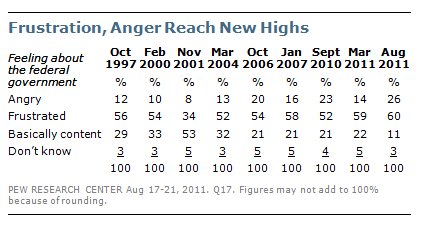 That jump in anger from March through August clearly stems from the debt ceiling shenanigans that got so much play in the media.  I wonder what our compatriots from the 19i50's would think of these losers we've elected for ourselves now…
Source:
11% – Public Satisfaction with Government Hits Low; Anger Rises (Pew Research Center)